School of Engineering launches $50 million campaign for student, faculty support
School of Engineering launches $50 million campaign for student, faculty support
November 4, 2021 - by Kim Delker
The University of New Mexico School of Engineering has officially kicked off an initiative to raise $50 million to focus on providing students and faculty with the support they need to thrive.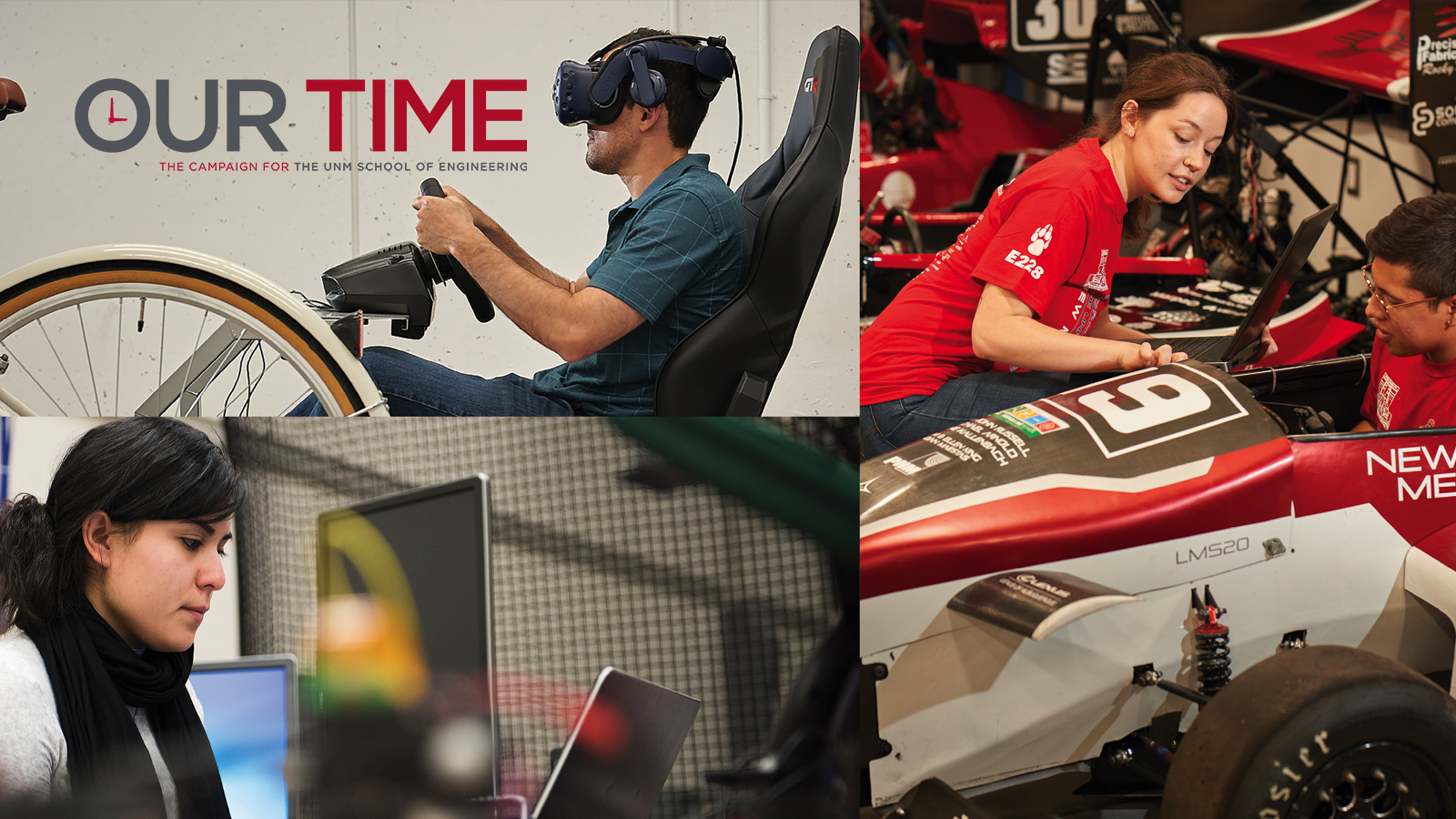 The campaign, called Our Time, was announced at an event on November 3 to celebrate the grand opening of the Dana C. Wood FSAE Racing Lab and Garage, which was made possible by a major gift to the School of Engineering in 2018.
"This fundraising campaign has already enabled us to provide unprecedented support to the students and faculty in the School of Engineering," said Christos Christodoulou, Jim and Ellen King Dean of Engineering and Computing. "Private donations to the School allow us to do so much more than has ever been done before, from helping students with scholarships and fellowships to providing faculty with funds that can take their research to the next level. The possibilities are endless."
So far, $20 million has been raised toward the goal of the Our Time campaign, which began in a silent phase in 2018. The campaign is set to conclude in 2025.
Although UNM is a public institution that receives funding from the state, that proportion continues to decline, so in order to effectively attract and retain top students and faculty with funding and other benefits offered by competing institutions, additional funding is needed. Examples of the use of such funding are student scholarships and fellowships, funds so students can travel to attend professional conferences, as well as extra funding to advance faculty research, facilities and equipment.
Brian Burnett, who received bachelor's and master's degrees from the Department of Civil, Construction and Environmental Engineering in 1978 and 1980, respectively, is chair of the campaign steering committee. He explained that the fundraising effort actually began a few years ago in a "silent phase," with a group of volunteers reaching out to hundreds of School of Engineering alumni for feedback and guidance to prepare a plan for a more formalized campaign.
"All of this began by reflecting on a dream of doing something boldly different, and this visioning was inspired and guided by Dean Christodoulou," said Burnett, the former CEO of Bohannan Huston who has remained actively involved with the School since earning his degrees. "I'm extremely honored to officially kick off Our Time: The Campaign for the UNM School of Engineering. It's our time to shoot for the stars and attempt to raise $50 million over a six-year period, with the money raised going directly to support the School's students and faculty. I encourage each of you to consider the how you can give back financially to the School to enhance its worldwide impact and further release its untapped potential."
The two main goals of the Our Time campaign are to empower students and promote faculty excellence. For students, this includes increasing the number and amount of scholarships, as well as fellowship opportunities for graduate students. For faculty, funding is sought to attract and keep high-quality professors in the School of Engineering. Funding is being sought for endowed chair and professorships, which generate extra funds annually for the department and the professor holding the title that can be used for research or other programs to benefit students or the department.
The School of Engineering in recent years has attracted a variety of large gifts that have provided resources to students and faculty. In 2018, the School of Engineering received $3 million from the estate of alumnus Dana C. Wood which was the largest cash gift in the School of Engineering's history. The largest part of the gift, $1.5 million, went toward the 8,000-square-foot space on the ground floor of the Farris Engineering Center that is dedicated to the UNM Formula Society of Automotive Engineers (FSAE) program. The facility officially opened this year and is named the Dana C. Wood FSAE Racing Lab and Garage.
The FSAE program is housed in the Department of Mechanical Engineering but also partners with other departments, such as the Department of Electrical and Computer Engineering.
Another part of the gift, $500,000, went toward the Department of Civil, Construction and Environmental Engineering to upgrade a 4,600-square-foot structures and materials lab, located on the ground floor of the Centennial Engineering Center, which opened in 2019 as the Dana C. Wood Materials and Structures Lab. The lab features state-of-the-art equipment in 3D concrete printing and computer-aided design.
Finally, $1 million was used to create an endowed position within the Department of Civil Engineering, which will be named the Dana C. Wood Chair for Advanced Construction Materials and Technologies. The position and funds will be used for advanced construction and materials technologies, including 3D concrete printing. It is anticipated that the position will be filled in spring 2022.
Wood, a native of Gallup, New Mexico, received a bachelor's degree in 1977 and a master's degree in 1990, both in civil engineering from UNM. He died after a long battle with cancer in 2013. Wood's first job out of college was for Bohannan Huston Inc. His lifelong passion for computers was put to good use when Bohannan Huston started a spinoff company called Diginetics that developed one of the first CAD programs for civil engineering. He helped write the software that was sold to other engineering firms in the U.S. and eventually rose to lead Diginetics.
Later, Wood developed a software called PowerMerge, which would sync a user's files on different computers before the Internet and "cloud" were pervasive. He and his associates also launched Leadertech, a company that had offices in Albuquerque and Los Angeles.
Learn more about Our Time: The Campaign for the UNM School of Engineering at ourtime.unm.edu.