UNM's SMILAB develops marine and underwater smart sensing in NSF/ONR project
December 15, 2021 - by Kim Delker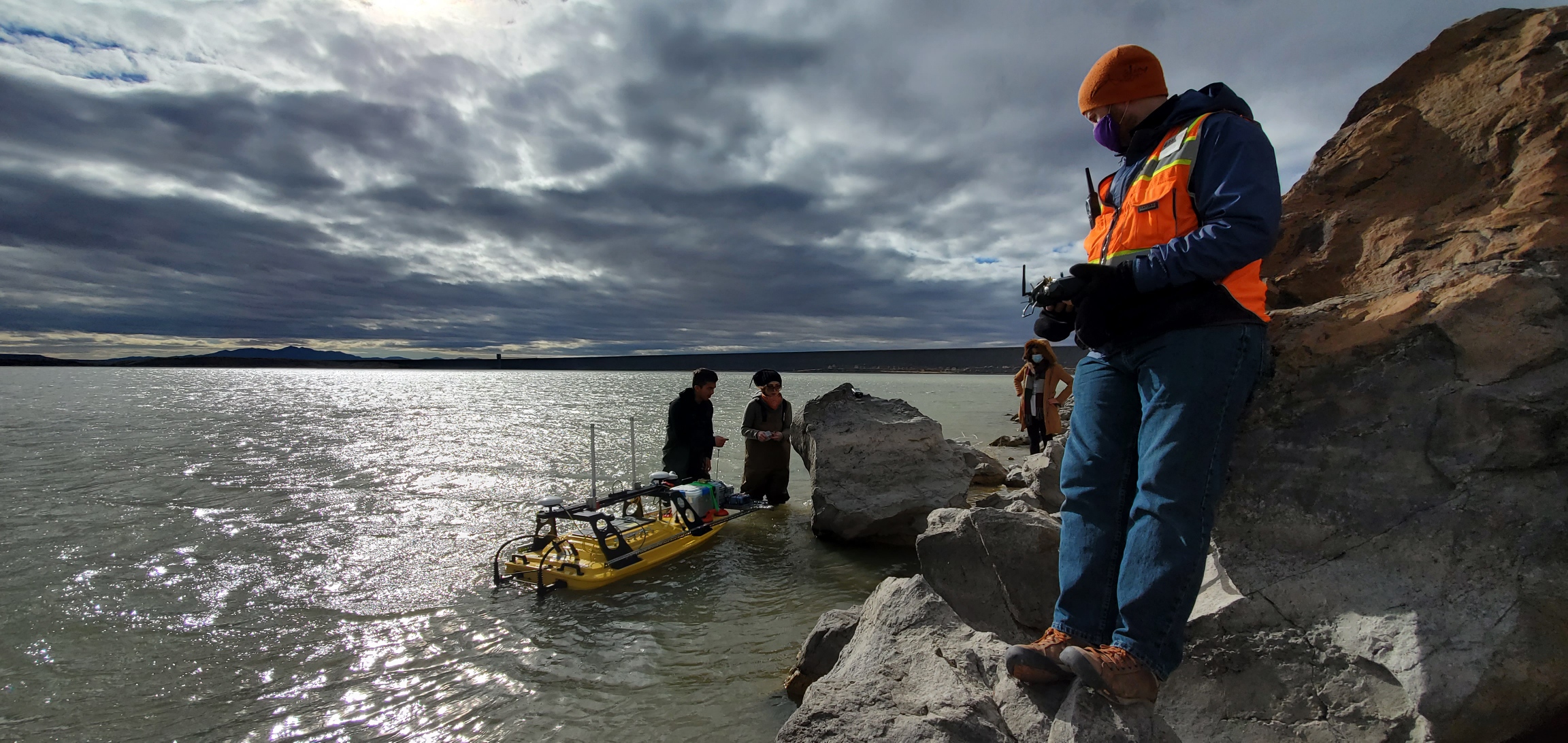 Shorelines, waterfronts and even areas underwater could soon be safer, thanks to a project led by researchers at The University of New Mexico. UNM's Smart Management of Infrastructure Laboratory (SMILab) is partnering with the Office of Naval Research (ONR) and the National Science Foundation's (NSF) Natural Hazards Reconnaissance (RAPID) Facility to develop marine and underwater smart sensing using a high-performance, portable, remote-operated survey boat to monitor waterfronts, shoreline petrology and underwater activity.
The group is advancing methodologies related to being a member of the U.S. Department of Transportation University Transportation Center Transportation Consortium of South-Central States (Tran-SET).
The project is being led by Fernando Moreu, director of SMILab and assistant professor in the Department of Civil, Construction and Environmental Engineering. Students involved in the project include both undergraduates and graduate students from civil engineering, mechanical engineering, computer science, as well as ROTC and students enrolled in UNM's national and global security program.
For this project, Moreu and his team used survey boats in nearby bodies of water to conduct various experiments over the course of three days, starting at the UNM Johnson Center pool, then progressing to Cochiti Lake.
"The purpose of this project was to combine different systems, such as a tap-testing robot, a low-cost laser sensor, an underwater drone and an RGB camera with the boat for simultaneous water navigation, inspection and monitorization of items of interest," he said.
A water-resistant tapping mechanism was designed to conduct tap testing for inshore inspections. The team collected the acoustic data on the boat from rock surfaces in their natural condition and after creating cracks on them with a hammer. The sound data collected was analyzed using machine learning techniques, which can inform the inspector of the rock condition.
Moreu said another sensor was added to the Z-boat used in the experiments called Azure Kinect, which creates a 3D-point cloud of data that is also dynamic.
"The purpose was to reconstruct and analyze the 3D shape of the rocks and structures around the lake to monitor their quality and help the inspector to monitor defects of them in the harbor especially in the place that they have no access," he said.
The experiments conducted with the low-cost laser sensors and underwater drones were led by a combination of ROTC midshipmen and cadets. This was conducted as a part of their ongoing Office of Naval Research Cyber Security and Cyber-Physical Systems Training program. Their experiments were conducted not only to validate their fifth-generation Low-cost Efficient Wireless Intelligent Sensor (LEWIS 5): Laser Network for aquatic sensing purposes, but also to validate how similar technologies could be applied to detect underwater activity, Moreu said.
"Their experiments epicentered on the importance of cyber-physical security in naval navigation and aquatic sensing, as they collected valuable data regarding distances and velocity of items underwater," he said. "This proposed system can have wider implementations in enabling inspection of the structures in water bodies, such as bridge piles and towers."
The multidisciplinary team of students on the project include Ph.D. students in civil engineering Roya Nasimi, Xinxing Yuan and Mahsa Sanei; master's student in national and global security Joshua Murillo; and undergraduate students  Solomon Atcitty (mechanical engineering), Jack Hanson and Porter Yang (computer science), Tim Thiergart (national and global security), and Zane Dudney (history).