UNM to compete in Solar Splash contest in June 
April 6, 2022 - By Kim Delker
For the seventh year in a row, a team from The University of New Mexico will head east this summer to compete in the UPS Battery Center Solar Splash competition in Springfield, Ohio.
The competition of collegiate solar-powered boats, held June 7-11, will feature teams from around the world, including top universities like Cornell University and Carnegie Mellon University.
Peter Vorobieff, a professor of mechanical engineering, is the team's faculty advisor. Despite the pandemic challenges of the last couple of years, the team still managed to compete in person last year and place highly. In 2021, the team came in No. 3 overall, the best overall result since they began competing in 2016. They also placed second in the sprint, third in the slalom and third in qualifying.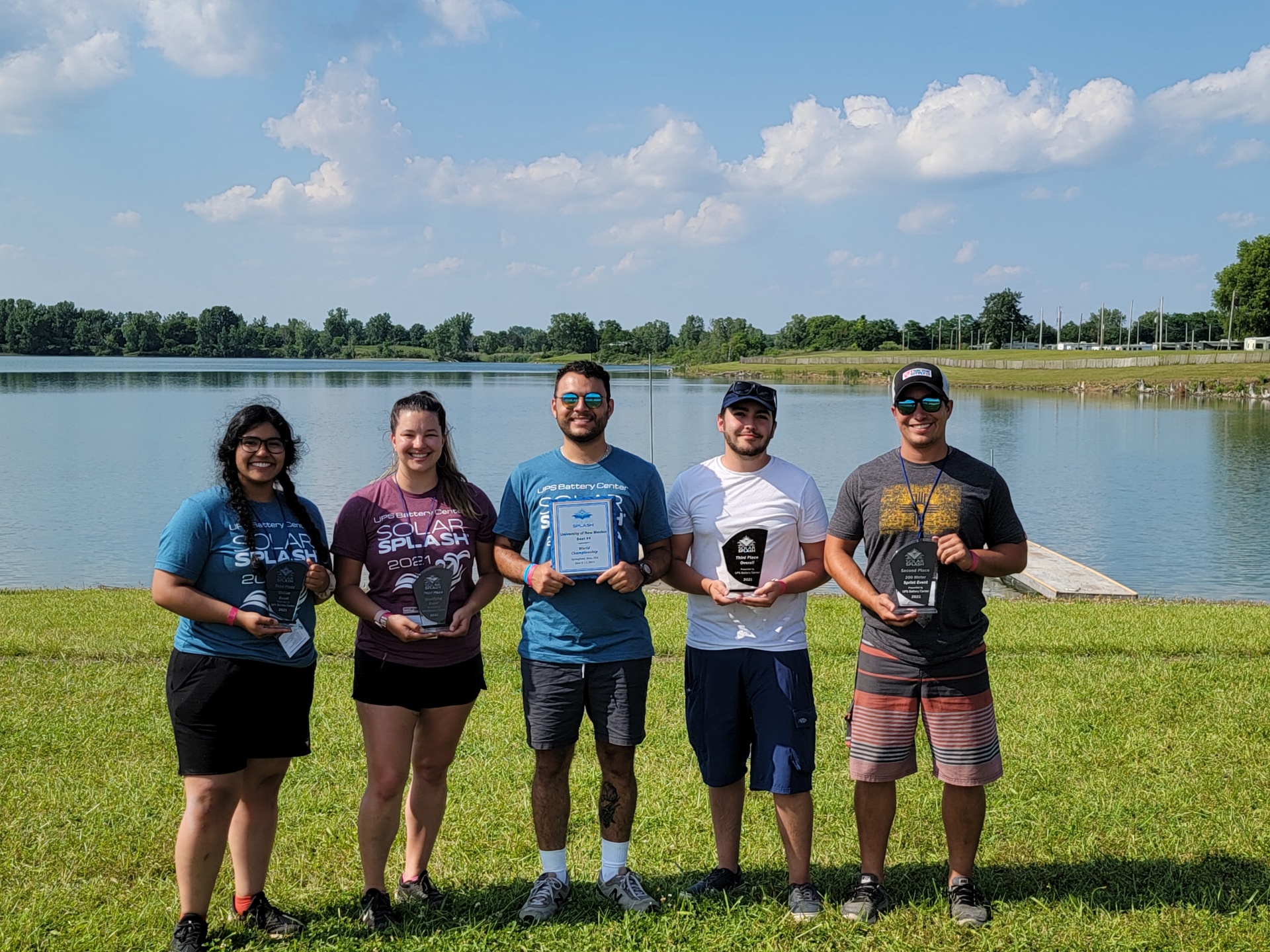 Modifications to the boat are always made with previous years' performance in mind, focusing on ways the team can improve. This year, Vorobieff said the focus is on speed.
"We have redesigned the drivetrain, which will improve the top speed," he said. "We are working to dramatically lighten the hull. There has been a lot of sаwing, drilling and sanding."
Although the team was hoping to have a newhull in place this year, replacing the wood with carbon fiber, that change will have to wait until next year. But he is still confident in the strategy for the team's success.
"We have a very capable team this year," Vorobieff said.
Among this year's team members are Steve Lindsley, a master's student in the Department of Mechanical Engineering, and Brandon Kirkpatrick, who was part of the 2021 Solar Splash team but has come back to assist the team. Other 2021 Solar Splash veterans are Felicia Brimigion and Samantha Korfe. The team added some new members, including Mary Anrhart, Ira Shubert, Angela Patterson, Joshua Montoya, Chris Ogren, and Chantel Bishop. Maintaining continuity is important for the team, and the Solar Splash program is deliberately designed in a way that allows students who participated as seniors to take credit for returning as graduate students and mentors.
As in previous years, the boat will utilize high-performance solar cells from SolAero Technologies. Sponsors of the UNM Solar Splash this year are UNM, Sandia National Laboratories, IEEE and ExxonMobil.
Vorobieff is grateful as well to the UNM Distinguished Alumnus and major supporter Roger Koerner for his financial support of the team, which included funding the refurbishment of the trailer that allows the team to transport the boat and equipment across the country. This year, the team has upgraded several parts of the trailer to enhance security and performance, thanks to the support of Koerner.
Solar Splash is funded almost entirely through private donations. Donations to Solar Splash can be  made here.