Balloon Fiesta Park site of team meeting on MARCUS drone project
July 19, 2022 - Kim Delker
A team from UNM, Sandia National Laboratories and ETH Zurich met June 29 at Balloon Fiesta Park in Albuquerque for a status update and overview of the MARCUS mobile adaptive/reactive counter UAS (unmanned aerial system) project.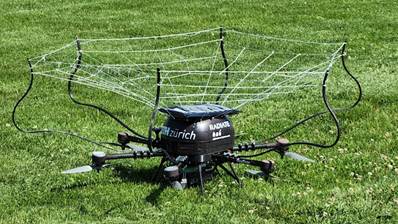 The MARCUS project, started in 2020, is led at UNM by Rafael Fierro, a professor in the Department of Electrical and Computer Engineering at UNM. is leading the UNM part of the project.
The main goal of the project is to develop efficient ways to intercept enemy unmanned aircraft systems midflight. Although drone pilots are technically restricted to certain heights to avoid interference with aircraft, it is hard to police these devices and to tell if unmanned aircraft are a threat to national security.
The June meeting included an overview of MARCUS, as well as the ground and aerial platforms used by the sensors in the project, and the software used for detection, identification and tracking.
The day also included a variety of demonstrations, including the detection of UAS with ground platforms; the identification and tracking of UAS with UNM Falcon; and interception, identification and tracking with ETH DroGone.
Fierro directs the Multi-Agent, Robotics, and Heterogeneous Systems (MARHES) Laboratory at UNM, which has extensive experience in real-time control of unmanned aerial systems, including working with Sandia on the precursor to this project.