Stepping back, not away
December 20, 2022 - by Kim Delker
Christos Christodoulou arrived at The University of New Mexico in 1999, coming from a long tenure at the University of Central Florida in Orlando, to chair the Department of Electrical and Computer Engineering, which he did for six years.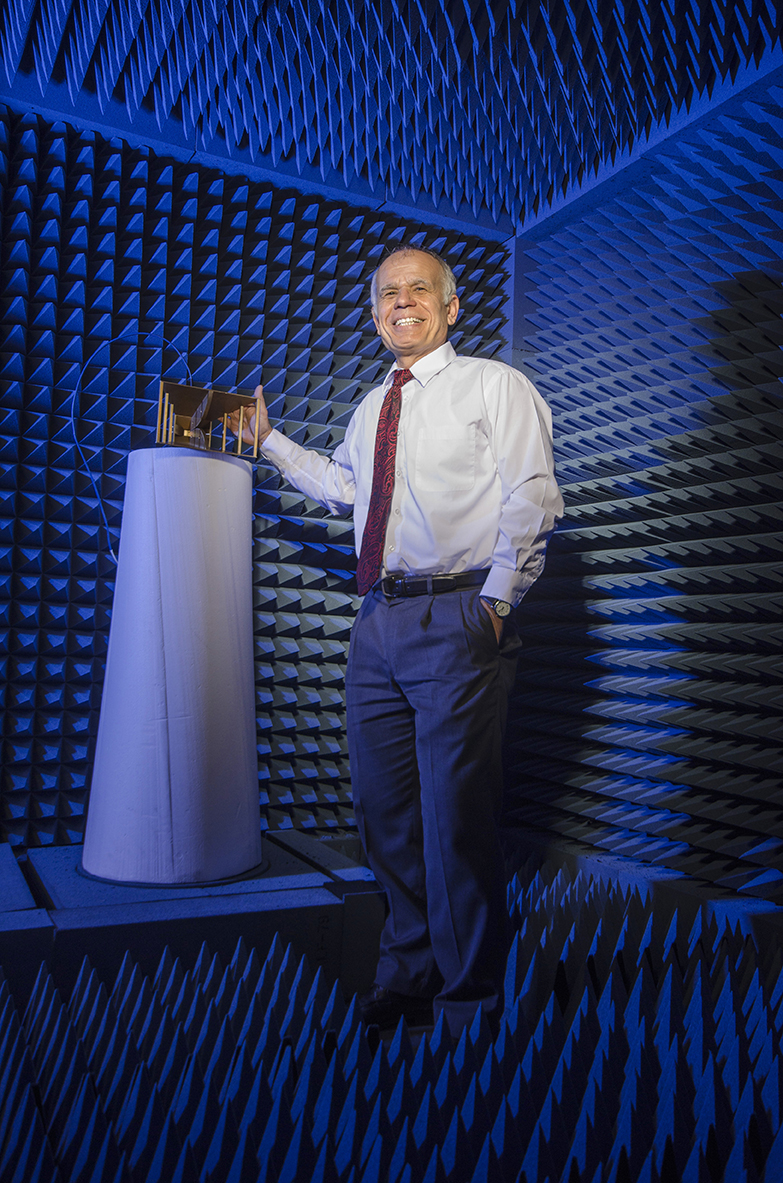 In fact, over the almost 25 years he's been at UNM, he has almost always had a management role. As one of the founders of COSMIAC (a School of Engineering research center for space electronics), he directed the center from 2012 to 2014. And he was tapped by then-Dean Joseph Cecchi to serve as associate dean for research in the School of Engineering from 2014-2017. From there, he moved literally across the hall of the dean's suite to become Jim and Ellen King Dean of Engineering and Computing.
At the end of 2022, he will be stepping down as dean, going back to his roots to direct COSMIAC and will have the time to focus on the things that he's most passionate about: research, ideas and students.
His deanship saw both great highs and great lows. He saw the completion of the renovation of the Farris Engineering Center, a $25.5 million project that began years before and drastically modernized the space, both in appearance and function.
Christodoulou enjoyed the fundraising role, working with alumni and donors to move the needle. He oversaw the initiation of the $50 million Our Time campaign for the School of Engineering in 2021, as well as the opening of new spaces, including the Dana C. Wood FSAE Racing Lab and Garage and the Dana C. Wood Materials and Structures Lab. In addition, there were history-making donations to the School, like the $5 million pledge from Doug Campbell to establish the Gerald May Department of Civil, Construction and Environmental Engineering, and the $2 million gift from MathWorks to create an endowed professorship in the Department of Computer Science.
He said that kind of success was due only to the robust connections the School has built with its alumni the last several years.
"I developed an emotional attachment with alumni that I didn't expect," he said. "I really saw them as friends and family."
But also, his legacy will also include a world-changing pandemic that immediately forced physical isolation in March 2020 and economic challenges that resulted in severe budget cuts in New Mexico higher education. Still, he is proud of the fact that he was able to preserve faculty and staff jobs through a careful realignment of resources.
Although he feels that the pandemic cut short a lot of his plans, he is satisfied with what he was able to accomplish.
"Despite COVID and budget cuts, we had a great time and we had great alignments," he said. "It was truly our time, and that's why we were able to weather a lot of difficulty."
First, one of his goals as dean was to raise the rankings and reputation of the School nationally, especially such metrics as U.S. News & World Report. When he became dean, the graduate school rankings were hovering near 100, which he said makes a program "invisible." Although such rankings are notoriously hard to move, due to the complex factors involved — many of which deans have no control over — he was able to oversee changes that resulted in it rising to its current level of No. 86.
Another focus has been on the diversity, equity and inclusion front. Engineering and related disciplines have a well-known challenge in attracting and recruiting females and those of under-represented backgrounds, but Christodoulou said he knew it was a weakness and immediately enlisted the help of Mala Htun, a professor of political science who served as his special advisor to the dean for inclusion and climate.
Htun directed a climate survey in the School in 2020 to assess strengths and weaknesses, and she also worked with Christodoulou and Charles Fleddermann, associate dean for academics and community engagement (who will serve as interim dean beginning Jan. 1) to achieve the ASEE Bronze level for diversity. In fall 2022, the team worked to be recognized at the next level — Silver — based on the advancements made under Htun and the Inclusion and Climate Committee she led.
One of the accomplishments was the establishment of the Inclusion Lab, located within the Resilience Institute. The new lab will work through existing National Science Foundation funding to pilot institutional change interventions and collaborate with partners in the social sciences to explore diversity, equity and inclusion topics with a broad, national impact.
Christodoulou also said that although there is more work to be done, he feels good about the fact that under his tenure, he had the opportunity to increase the number of women faculty in the School.
In another accomplishment for faculty, he is proud of being able to establish a "base plus compensation" plan, which is a model designed to reward high-performing faculty who engage in research with a flexible compensation strategy.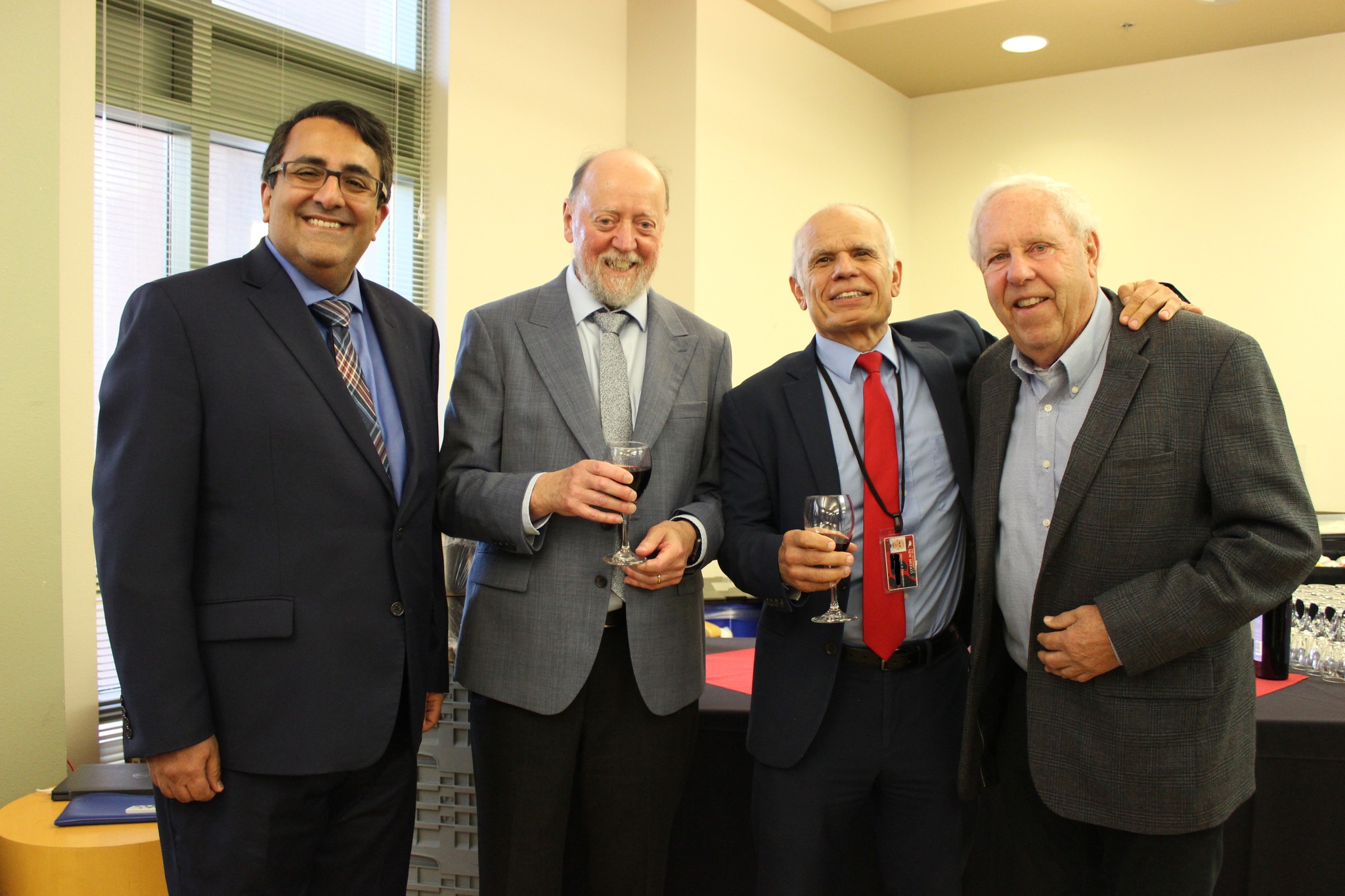 Christodoulou with (left to right) Arash Mafi, interim dean of the College of Arts and Sciences; Turing Award winner and UNM alumnus Jack Dongarra; and Frank Gilfeather, emeritus professor from the Department of Mathematics and Statistics, in October 2022 during the UNM Jack Dongarra celebration at Centennial Engineering Center.
He also feels good about the strides the School was able to make in student success. In addition to increasing scholarships and alumni involvement with recruitment, he advocated for the name of the Engineering Student Services to the Engineering Student Success Center to better reflect its mission. Under the direction of Elsa Maria Castillo, they were able to expand the staff, hiring a dedicated recruiter, as well as a retention specialist.
"This is something we never had before," he said. "I always like to say that we won't let any student fail, even if they want to. I'm very proud of what we've done for students."
Additionally, he said that thanks to the efforts of Edl Schamiloglu, associate dean for research and innovation, research expenditures the last several years have mostly risen, despite the pandemic. And new alliances have been created with Sandia National Laboratories, the Air Force Research Laboratory, and Los Alamos National Laboratory.
"Thanks to Edl, research has been streamlined and organized," he said.
Schamiloglu also helped to start the School's Corporate Affiliate Program, which partners with industry to provide benefits to students and visibility for member companies.
Although Christodoulou will no longer be in leadership at the School-wide level, he said the next dean, Donna Riley, who begins April 1, will have a lot of advantages that can be used to propel the School even higher.
"The next dean is in an excellent position to take us to the next level," he said. "We will need to stay competitive with other engineering programs in the surrounding states, but I think that industry, faculty, staff and alumni will be willing help in this. We have all the ingredients in place."
Christodoulou now has two granddaughters in California and hopes to be able to spend more time with them now that he won't be saddled with the day-to-day duties of the deanship. But he makes it clear he won't be sitting in a rocking chair, reminiscing about his glory days.
"Everyone thinks I'm retiring, but I'm not retiring!" he said. "I have a lot I want to accomplish, especially with economic development in the state."
As director of COSMIAC, he said he is planning the next three to five years to take advantage of what is in place in New Mexico to grow economic development in aerospace, leveraging relationships with NewSpace New Mexico and industry partners.
"I'm really excited about space," he said.
He said he will miss a lot of the people he worked closely with as dean, and he hopes his legacy is one of goodwill.
"I want to be known as someone who was easy to approach and with whom you could speak your mind with no fear of retaliation," he said. "And someone who did it with humor and a smile on his face."