Professor Ackley Featured in Wired News' GadgetLab blog, Gizmodo and Slashdot
August 20, 2009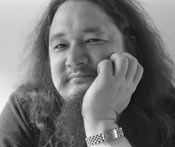 In an article on Wired News' GadgetLab blog,Associate Professor David Ackley talked about programming the 'Illuminato X Machina', a motherboard prototype, that uses separate modules each of which has its own processor, memory, storage and communications. The article was quickly picked up by tech hub Slashdot and sparked discussions among it's tech savvy users. Prof. Ackley was also featured in popular gadget blogGizmodo.
Each square cell of 'Illuminato X Machina' serves as a mini-motherboard and network node; the cells can route power among themselves and decide to accept or reject incoming transmissions and programs independently. By varying the count, connections, and programming of a set of modules, aggregate computers can be created with properties tuned to the task at hand.
Although the 'Illuminato X Machina' is not yet generally available, UNM students will be building them into 'computer collectives' in Prof. Ackley's Fall 2009 class on 'Robust Physical Computation'.