Ball Aerospace Sponsorship Supports UNM School of Engineering Student Organizations and Research
February 25, 2010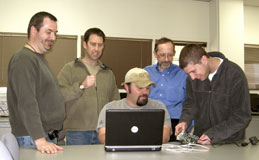 Ball Aerospace & Technologies Corp. has donated $15,000 to support three student organizations at the UNM School of Engineering and student research in the Department of Electrical and Computer Engineering (ECE).
"Building upon a long history of informal interactions with the University of New Mexico, Ball Aerospace is very excited to take the next step by establishing this formal relationship with the UNM School of Engineering," says Dan Gibson, Vice President and General Manager of Ball Aerospace & Technologies Corp, Systems Engineering Solutions. "UNM engineers are a major source of technical talent and are key to maintaining and growing our high-technology economy. We look forward to a long, successful relationship with UNM."
________________________________________________________________________
Photo: Ball Aerospace employees Jim Russell (far left) and Glynn Germany (second from right) work with UNM students Steve Tomany, David Rodgers, and Kyle Padilla to develop data compression techniques for use on future small satellites.
________________________________________________________________________
Ball Aerospace's support and resources are directed to UNM student chapters of Women in Science Engineering (WISE), the Society for Women Engineers (SWE), and the Hispanic Engineering and Science Organization (HESO). UNM students benefit from the interaction with company representatives and the educational opportunities, networking, mentoring, and community service projects provided by these organizations.
For the research project, Ball Aerospace is supporting ECE Lecturer Olga Lavrova's senior design class. The focus of the project is to investigate data compression algorithms for possible implementation onboard a small, low-Earth orbiting satellite. The Ball Aerospace candidate satellite will download 5-6 gigabytes of data in a window of 10-12 minutes, and possibly as short as 6-8 minutes, using a modest 1 MB per second link. The students will implement the candidate compression algorithms on representative hardware and evaluate their performance using five criteria developed by Ball Aerospace engineers.
"The generosity of Ball Aerospace enhances three vital student organizations and significant research opportunities for our students," says UNM School of Engineering Interim Dean Arup Maji. "We are grateful for their contribution and look forward to an exciting partnership with this innovative company."
About Ball Aerospace
Ball Aerospace & Technologies Corp. supports critical missions of important national agencies such as the Department of Defense, NASA, NOAA and other U.S. government and commercial entities. The company develops and manufactures spacecraft, advanced instruments and sensors, components, data exploitation systems and RF solutions for strategic, tactical and scientific applications. For more information, visit www.ballaerospace.com.
About the UNM School of Engineering
The University of New Mexico School of Engineering offers undergraduate and graduate degree programs in engineering and computer science in a research-intensive environment. Strategic research thrusts include nanoscience, nanotechnology, biomedical engineering, bioinformatics, energy, the environment, information powered systems, and high performance computing.www.soe.unm.edu