Fall 2010 School of Engineering Staff Travel Award Winners Announced
September 20, 2010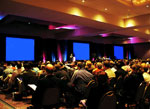 School of Engineering Interim Dean Arup Maji announced that six School of Engineering staff have won competitive awards to travel to conferences or seminars. 
Beginning Fall 2010, Dean Maji set aside $20,000 for the Staff Travel Awards to enable staff to travel to conferences, workshops or seminars. "I am a strong proponent of staff and believe in the quality staff we have here in the School," said Dean Maji. "My hope for this funding is to create opportunities for staff that may not currently exist due to shrinking budgets."
The fund supports six School of Engineering staff awards in the fall and seven in the spring. To be eligible, staff must submit an application packet and submit it to an internal administration team for review. Awards past AY 10-11 will be dependent upon availability of future funding and support from future leadership. SOE staff are encouraged to apply for the awards. The spring deadline is January 31, 2011 for conferences held March through August, 2011. 
The six winners of the fall 2010 staff travel awards are:
Elsa M. Castillo, Associate Director of Engineering Student Services and SOE Scholarship Coordinator, received the award for the Society of Hispanic Professional Engineers (SHPE) Conference in Cincinnati, OH from October 27-31, 2010.
George Kelbley, Computer Science Systems Specialist, received the award for the Large Installation System Administration (LISA) Conference in San Jose, CA from November 7-12, 2010.
Katie Krieger, Administrative Assistant 3 in the Dean's Office, received the award for the Management and Leadership Skills for First-Time Supervisors and Managers in Las Vegas, NV from February 24-25, 2011.
Lourdes McKenna, Department Administrator for Computer Science, received the award for the STEMtech Conference in Orlando, FL from October 31 – November 3, 2010.
Steven Peralta, Director of Engineering Student Services, received the award for the NASA Education Stakeholder's Summit in Chantilly, Virginia from September 13 – 15, 2010.
Tamara Williams, School of Engineering Marketing Director, received the award for the American Marketing Association Symposium for Marketing in Higher Education in San Diego, CA, November 7 – 10, 2010.