UNM Celebrates Arrival of New 'Million Dollar' Machine at Center for High Technology Materials
September 16, 2010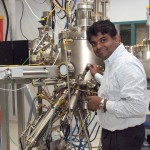 Sanjay Krishna, associate director at UNM's Center for High Technology Materials, is leading the celebration of the arrival of the new Veeco GEN10 MBE, a specialized state-of-the-art molecular beam epitaxy machine that allows researchers to grow complex crystals with better quality control than has been possible in the past.  Krishna says they will use the machine initially to grow superlattice samples, but they can also grow quantum structures.  This is the first machine of this kind available for use in a university setting in the U.S.
Krishna says it is somewhat similar to building an object with Legos™, except this tool allows him to use atoms as Legos™. Krishna heads a research group of 20 at UNM.  The group includes research professors, graduate students and undergraduates who study with him during the summer.  The tool will also be used by other researchers at the center, department, school and university and is available to industry to assemble specialized prototypes.
Krishna says any company can contact the center and work with him and other researchers to explore a way to build prototypes with the machine.  The machine was purchased through an instrumentation grant through the U.S. Air Force Office of Scientific Research and Krishna is the principal investigator.
The crystals grown in the machine have many applications.  Krishna himself is putting together a start up company that will use a sample he plans to grow in the machine.  He is assembling an infrared camera he hopes will be able to detect melanomas on the skin using extremely small temperature variations.
Currently, Krishna says, people with a potential skin cancer have it examined by a dermatologist who may choose to biopsy the area of concern.  He says the problem is there is no tool the dermatologist can use between visual examination and surgery.  He hopes this camera will be able to fill that gap.  Krishna has already received permission from the University's Human Subjects Review Committee to begin clinical trials.
Krishna says he still needs to complete some basic research before he is ready to try his camera components for cancer detection.  The way Krishna's company uses the tool can be a showcase for other companies who want to work with the university and use CHTM equipment.
"Our company is actually going to have company people come in and use the clean room as a user," he says.  "There's one part– time employee who comes in and uses it on a per hour basis.  So it's good for the company because it doesn't need a lot of resources.  It's very good for CHTM because we get some extra revenue and the revenue we get; we can use to maintain the tool."
CHTM has been a center at the University of New Mexico for 25 years.  It began with a $9.6 million investment over five years by the state of New Mexico to attract high tech industry.  The center has grown and expanded its research portfolio through the years, and now has fifteen faculty members, 15 research faculty members, twenty research, technical and administrative staff and between 60 and 70 graduate students who conduct research there.  The focus of the researchers is electrical and optical semiconductor research, but the nanofabrication facilities are allowing an expansion into other areas such as energy harvesting and biological sciences.
Media contact: Karen Wentworth (505) 277‑5627; e-mail: kwent2@unm.edu.