UNM School of Engineering Ranked Fourth by Hispanic Business Magazine
September 27, 2010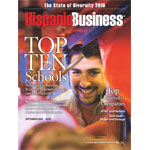 In its September 2010 issue, Hispanic Businessmagazine ranked the UNM School of Engineering as the fourth-best engineering graduate school for Hispanic students in the nation. Last year the magazine ranked the UNM School of Engineering sixth.
The magazine cover features UNM researcher Steven Candelaria operating a radio frequency plasma reactor.
Each year Hispanic Business measures and ranks the nation's universities, using factors such as percent of Hispanic graduate enrollment, percent of Hispanic postgraduate degrees, percent of Hispanic faculty, and "progressive programs aimed at increasing enrollment of Hispanic students."
"We are proud of the quality of education, research experience, financial support and services that Hispanic students receive at UNM," said Arup Maji, interim dean of the UNM School of Engineering. "Considering the importance of engineers with advanced degrees in solving our nation's challenges, we want to make sure that all our students – especially those from under-represented groups – have these opportunities."
The UNM School of Engineering is committed to diversity and has several externally funded programs that help ensure student academic and professional success. The school's largest student organization, Hispanic Engineering and Science Organization, also encourages enrollment and retention in Engineering, Science, and Mathematics, coordinates partnerships with industry, and conducts numerous outreach activities in the community.
Hispanic Business ranked three other University of New Mexico graduate schools in the top 10 in the nation for graduate programs: the UNM School of Law is ranked fourth, the Anderson School of Management is sixth, and the UNM School of Medicine is tenth.
For more information on the rankings, visit Hispanic Business.