UNM Community Mourns Loss of Prof. Peter Dorato
September 22, 2010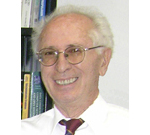 Friends, colleagues, and students of UNM Electrical and Computer Engineering Professor Peter Dorato were saddened to hear of his passing on Saturday after a short illness. Dorato was 77.
An emeritus professor with ECE, Dorato's commitment to his students never slowed, even after his 2005 retirement. He continued teaching and was a welcome presence in the department. He remained involved in his wide array of passions—from teaching and counseling undergraduates, to participating in faculty meetings and contributing to the department's many events and activities.
Dorato "was a long-term friend and colleague," said Professor Chaouki Abdallah, current chair of the ECE Department. "He was a gentle soul, a great role model, and a teacher until the end. The night before he passed away, he actually gave a 'Last Lecture' to his family and told many of his jokes."
Dorato was an avid traveler, nationally ranked senior tennis player, and lover of all things Italian (except opera). He was genuinely interested in people and was a nonjudgmental listener who especially relished a good Socratic exchange of ideas, inviting opposing views without ever taking disagreements personally. His sincerity, humility, and sense of humor endeared him to many.
He was internationally known for his research in systems and control, and received numerous awards, including the IEEE Third Millennium Medal, the World Automation Congress Lifetime Achievement Award, and the School of Engineering Senior Faculty Teaching Excellence Award. He was an IEEE Fellow and authored or co-authored eight books: seven about engineering and one about Italian culture.
Dorato joined UNM's ECE Department in 1976 as its chair, a position he held through 1984. During that time he turned the department's attention toward increasing its research productivity rather than solely on teaching. A 1997 history of the department states that "the arrival of Peter Dorato marked an important shift toward research—a shift that, in turn, edged the department closer to a position of national recognition and respect."
He helped launch ECE's computer engineering program and the university's Center for High Technology Materials, and was instrumental in consolidating the department into its own building with updated research facilities in 1986.
Dorato is survived by his wife of 54 years, Madeleine; their two daughters, Sylvia Dorato and Veronica Dorato; their two sons, Chris Dorato and Alex Dorato and their wives; along with their ten grandchildren.  The family invites Peter's friends and colleagues to a two-day celebration of his life. On Wednesday, Sept. 22, there will be a visitation at 6 p.m. and a Rosary at 7 p.m. at French – University Chapel.
A mass will be held for Dorato on Thursday, Sept. 23, at 10 a.m. at the Aquinas Newman Center on the UNM campus, 1815 Las Lomas Road NE. Burial will be at Mount Calvary Cemetary, 1900 Edith Blvd NE, with a reception to follow.
In lieu of flowers the family is establishing a memorial fund for scholarships in Dr. Dorato's honor. Contributions may be made to the UNM Foundation, notation Peter Dorato Memorial Fund, c/o Susan Georgia, UNM School of Engineering, Development Office, MSCO1 1140, 1 University of New Mexico, Albuquerque, NM 87131–0001.
Media Contact: Frances Strong, (505) 277‑3156; e-mail: fstrong@ece.unm.edu