UNM School of Engineering to Host Open House on November 6
October 6, 2010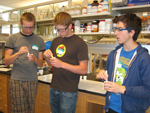 The University of New Mexico School of Engineering is hosting an open house for high school students, transfer students, University College students, and families at the Centennial Engineering Center on the UNM Main Campus on Saturday Nov. 6 from 1 – 3 p.m.
Presentations will be given on degree programs, scholarships, student support services, student organizations and what to expect. In addition, students and their parents will be able to talk to advisors, department representatives, faculty and students about academic programs, research, and more. Each of the five departments within the School of Engineering will give lab tours lasting approximately a half hour.
The open house is for all high school students, transfer students, and UNM University College students, as well as their families. Reservations are not necessary.
The Centennial Engineering Center is at the corner of Dr. Martin Luther King, Jr. Avenue and University Boulevard.
Parking is free at UNM on Saturday except in reserved spaces, handicap zones and restricted areas. Paid parking is available in the Cornell Parking Structure on Redondo just east of Stanford.
For more information visit: School of Engineering Open House.