UNM Hosts 22nd Annual Rio Grande Symposium on Advanced Materials
October 13, 2010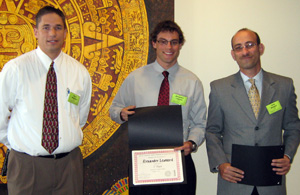 Scott McEntire, SNL; Alexander Leonard, UNM; Tariq Khraishi, UNM
UNM Graduate Student Alexander Leonard won first place in the poster session Graduate/Technologist category for his poster "Evaluation of Synthetic Substrates for the Study of Material Mechanical Properties on Cellular Functions."    The poster session for students drew papers from dozens of students and technologists.
Haytham Soliman from UNM won 2nd place for "Synthesis of Zero Valent Nickel Micro and Nanoparticles from Nickel (II) Hydroxide and Nickel (II) Oxide Using a Vertical Aerosol Method."  Jeff Peterson from Los Alamos National Laboratory and New Mexico State University won 3rd place for "The Quest for TPa Hugoniot Data: Using the DEMG in High Velocity Pulsed Power."
Undergraduate/High School poster winners included Robert Castillo from UNM who won 1st place for his poster "A New Approach to Cancer Therapeutics Using Nanoparticle-Based Targeted Drug Delivery," Sarah Hoppe from UNM and Sandia National Laboratories who won 2nd place for her poster "Synthesis and Characterization of Menthanolated Lanthanide Halide Materials for Scintillator Applications," and Danae Davis from SNL  who won 3rd place for her poster "Spinel MxCo3-x04 Nanoparticles: Facile Low Temperature Solution Synthesis and Characterization".
The symposium drew dozens of professional, academic and student participants, and 45 papers were presented.   Richard LeSar from Iowa State University presented the Norbert J. Kreidl Memorial Lecture on "Computational Materials Engineering: Challenges and Opportunities."
Symposium organizer Tariq Khraishi, associate professor of Mechanical Engineering at UNM said, "This year's conference was very successful in terms of the quality and quantity of papers and posters presented. The audience enjoyed listening to a thought-provoking talk by Prof. LeSar."
The symposium was organized by the New Mexico Section of the Materials Research Society, the Albuquerque Chapter of ASM International, and the New Mexico Section of the American Ceramic Society.
Media contact: Karen Wentworth (505) 277‑5627; kwent2@unm.edu