UNM Engineers Without Borders Aids Navajo Community
November 23, 2010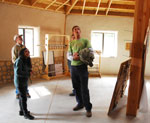 On Saturday, November 13, six students in the UNM chapter of Engineers Without Borders and their faculty advisor, Professor Bruce Thomson, went to Ramah, NM to discuss plans to provide heating for a hogan, a traditional community building. Student chapters of Engineers Without Borders enable members to participate in real-world engineering experiences while helping underdeveloped communities around the world.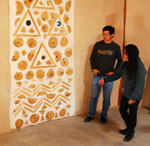 On Saturday, the UNM EWB students took measurements and discussed design details with their contact in the community, Yin Mae-Lee. Currently the hogan is vacant for several months every year due to Ramah's harsh winters. The community plans to use the facility as a classroom for students at the Pine Hill School district and for the local weaver's coop in order to generate more income for the community. In previous projects at Ramah, UNM EWB members installed a solar electric system to provide zero carbon footprint fluorescent lighting.
The group at Ramah on Saturday are (left to right): Bruce Thomson (Advisor), Laura Fransisco (Secretary), Morris Huang, (Education Lead), Yin Mae-Lee (community contact), Sara Eatman (Chapter President), Andrew Krieger (general member), Nick Heine (general member),
and Adam Roukema (Ramah project Lead).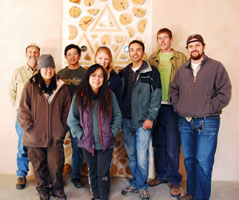 Each student and professional chapter of EWB is responsible for the funding of their project. For more information, visit http://www.unm.edu/~ewb/