UNM Civil Engineering Department Organizes 48th Annual Paving and Transportation Conference
December 21, 2010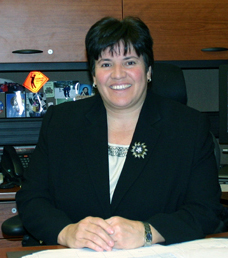 Amy C. Lucero is the keynote speaker for the 48th Annual Paving and Transportation Conference.  She is the first director of Technical Services for the FHWA, a newly created office that brings together the FHWA Resource Center, the National Highway Institute and the Technology Partnership Programs. The office helps define the developmental needs of the current and future workforce and initiates programs to address those needs.
Lucero holds a Bachelor of Science Degree in Civil Engineering and a Bachelor of Arts Degree in Economics from UNM, and a Master's Degree in Public Administration from the University of Colorado.  She is also a registered professional engineer in New Mexico.
The UNM Department of Civil Engineering Department and the ATR Institute are organizing the FortyEighth Paving and Transportation Conference. This year's Conference will be held at the Albuquerque Marriott Pyramid North, 5151 San Francisco Road NE, Albuquerque.   The final program is available here.
Advance Registration must be received by December 27, 2010.  The advanced registration fee is $70.00. The fee on January 10–11, 2011 will be $75.00. The registration fee covers admission to the technical sessions of the Paving and Transportation Conference, admission to the exhibit areas, break refreshments, the luncheon on Monday, and the breakfast on Tuesday.