UNM Civil Engineering Professor Timothy Ross Receives Fulbright Award
June 12, 2013
Timothy J. Ross, Professor and Regents' Lecturer of Civil Engineering at UNM, has been awarded a Fulbright Scholar grant to explore the economic and structural viability of using bamboo as a serious construction material at the Pontifícia Universidade Católica in Rio de Janeiro (PUC-Rio), Brazil.
Sponsored by the U.S. government, the Fulbright Program is the flagship international educational exchange program designed to increase mutual understanding between the people of the United States and the people of other countries.
Bamboo has strength, stiffness, and ductility values that are far superior to wood. In some foreign countries in warmer climates, bamboo has been used for 1-story homes and as scaffolding for 2-7 story structures.
"If one looks at the ratio of strength-to-weight, bamboo has a ratio greater than that of steel," says Ross. "If it can be shown that bamboo can compete with wood as a structural load-supporting material, the construction of 3-5 story buildings supported by bamboo could be realized.  Such a development would have tremendous impact on the US construction industry."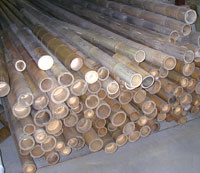 The key to this development will be the successful conceptual design, manufacture, and testing of bamboo connectors. Ross will be devising some bamboo connectors and conducting tests on them in Brazil during July and August of 2013 and May and June of 2014.  If successful, Ross will seek grants to continue with the testing of full scale connectors and bamboo beams and columns on the UNM campus. (Photo shows bamboo stacked up in a lab of one of Ross' collaborators.)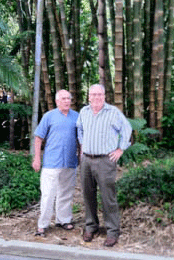 Ross will collaborate with several professors from PUC-Rio, including Profs. Raul Rosas e Silva (right) and Khosrow Ghavami (left), in front of a bamboo grove on the PUC-Rio campus.
Since bamboo is a grass that grows 8-15 feet per year, the use of this green material would drastically reduce construction costs in the US for some structures that currently use timber materials.  
The cost of importing bamboo is less than the cost of manufacturing wood in many areas of the US and countries around the world where wood is just not available.
Construction with bamboo can reduce the carbon footprint created by the manufacturing of the more energy-intensive construction materials, such as steel and concrete.  It would also spawn a new industry and associated innovative companies.