Honeywell, UNM sign collaborative agreement
June 6, 2016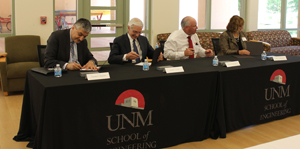 The University of New Mexico signed a master collaboration agreement with Honeywell Federal Manufacturing & Technologies on Monday, facilitating closer collaboration on research and development of new technology to meet national security needs.
""The University of New Mexico is proud to partner with Honeywell," said UNM Provost Chaouki Abdallah. "This partnership will allow us to bring UNM and Honeywell's research expertise together which will not only benefit our students and faculty, but also our national security."
The master collaboration agreement will expedite future research contracts at UNM that are funded through Honeywell. It will also foster other non-monetary collaborations, including interaction between UNM School of Engineering faculty and students and Honeywell as well as a better exchange of ideas, expertise, and equipment between the two organizations.
Honeywell manages and operates the Kansas City National Security Campus, a premier engineering and advanced manufacturing enterprise with locations in Albuquerque, NM and Kansas City, MO, to support the U.S. Department of Energy's National Nuclear Security Administration.
"Honeywell has a strong track record of collaborating with universities for recruiting students, promoting research, and developing new technologies," said Joseph Cecchi, Dean of UNM's School of Engineering. "We are pleased to be part of this collaboration which will continue fostering innovation and educating tomorrow's engineers."
As part of the collaboration agreement, Honeywell will work closely with UNM to identify opportunities for technology exchanges, equipment loans, and interactions between Honeywell staff and Engineering students and faculty.
"Education is the foundation of a skilled workforce and helps fuel innovation," said Robin Stubenhofer, vice president of engineering at Honeywell Federal Manufacturing & Technologies and UNM alumna (BSME, '85). "We are pleased to collaborate with UNM on behalf of our federal customer in the science, technology, engineering and mathematics fields. Together, we will advance the national security mission."