School of Engineering students to benefit from alumnus' gift to The University of New Mexico
School of Engineering students to benefit from alumnus' gift to The University of New Mexico
June 27, 2016 - By Kim Delker
Students in The University of New Mexico's School of Engineering will benefit for decades to come, thanks to the generosity of one of its alumni.
The estate of Dana C. Wood has provided a $150,000 endowed gift that will fund student scholarships in perpetuity. Wood, a native of Gallup, New Mexico, received a bachelor's degree in 1977 and a master's degree in 1990, both in civil engineering from UNM.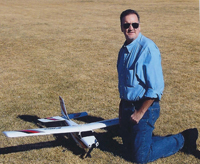 Wood fought a long battle with cancer, succumbing to the disease in 2013.
The Dana C. Wood Endowment for Engineering Awards will be given to the three senior engineering students with the first, second, and third highest grade-point averages for that year, with one-half, one-third, and one-sixth of the total annual amount available going to each, respectively.
Wood is described by his family as having had a passion for the UNM School of Engineering and students' access to engineering education.
"Dana was a Lobo fan, so he wanted to support UNM and felt strongly about giving deserving students who might not ordinarily get that chance an opportunity to pursue engineering," said Doug Wood, brother of Dana and a 1977 UNM civil engineering alumnus. "This scholarship is the perfect opportunity for Dana to leave a lasting legacy that demonstrates his passion for the School of Engineering and all that it provided him."
Dana's sister, Dolly (Charlene) Delaunay, remembers an intelligent, talented engineer, but also a person who made others feel good about themselves and who exemplified a positive spirit and determination.
"Whenever Dana was in a room, you could be sure there would be laughter. It wasn't that he brought attention to himself. In fact, he was a master at engaging others," she said. "So many successful people let their lives get out of balance with work taking up the lion's share of time. Not Dana. He truly understood that life was meant to be enjoyed and shared with others."
After graduating from UNM, Dana Wood worked for Bohannan Huston Inc., but his fascination with computers came to the forefront when Bohannan Huston created its spinoff company, Diginetics. He eventually led Diginetics and, after leaving that position, he started Leadertech, a software firm in Albuquerque and Los Angeles.
"Dana Wood was a creative, passionate engineer and entrepreneur, and we are honored that this gift will benefit the School of Engineering," said Joseph L. Cecchi, dean of the School of Engineering. "Dana's enthusiasm for engineering, education, and the School will live on through this scholarship, which will help undergraduate engineering students achieve their dreams for years to come."
Dana Wood is survived by his three siblings, Doug Wood, of Albuquerque; Charlene (Dolly) Delaunay, a retired teacher in Wyoming; and John Wood, a professor in the UNM Department of Mechanical Engineering.