School of Engineering welcomes new advisement leader
September 19, 2016 - By Kim Delker
Quinton Freeman joined the UNM School of Engineering in September as the manager of advising, overseeing all of the School's student advisement efforts.
Freeman was previously at Lobo Village, where he was a manager of campus communities. He also has an extensive background in advisement, most notably with UNM Athletics as their assistant and interim director of student development, where he provided leadership, training and supervision for a team of eight full-time and 24 part-time staff that supported student athletes in academic advising, life skills, academic coaching, career preparation and tutoring.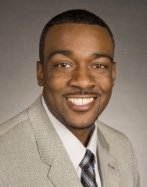 Freeman has bachelor's and master's degrees from Idaho State University, where he also worked as director of academics as well as a student development coordinator. Additionally, he has academic advisement experience from Fresno State University.
Freeman was hired in the new position as part of the recent restructuring of the School's undergraduate advisement. Engineering Student Services had previously advised pre-major engineering students. As part of a university-wide effort to standardize advisement, ESS will no longer be doing academic advisement, instead focusing on tasks such as student recruitment, minority engineering programs, scholarships, tutoring, and internships/career services. Undergraduate engineering and computer science students will now be advised in their major department beginning in their first year at UNM. Freeman will co-supervise all of the School's academic advisors in conjunction with each department's department administrator.
Freeman's office is located in Engineering Student Services. He can also be reached at (505) 277-8716 or qfreeman@unm.edu.