Engineering students learn how to design bridges using 3D printing
December 13, 2016 - By Kim Delker
Students in The University of New Mexico Department of Civil Engineering this semester designed and built a railroad bridge, which may not seem like an unusual feat for these students. But this group of budding engineers did it a little differently, with the aid of 3D printing.
Students in Fernando Moreu's Civil Engineering 410 (structural design for non-structural engineers) course were tasked with designing a bridge using the typical method of calculating load, stress, materials and other details, then putting them into blueprint form. But instead of just putting them on paper or in a software program, they were assigned to take it a step further, to actually put their designs into a 3D printer to build a miniature bridge to their specifications.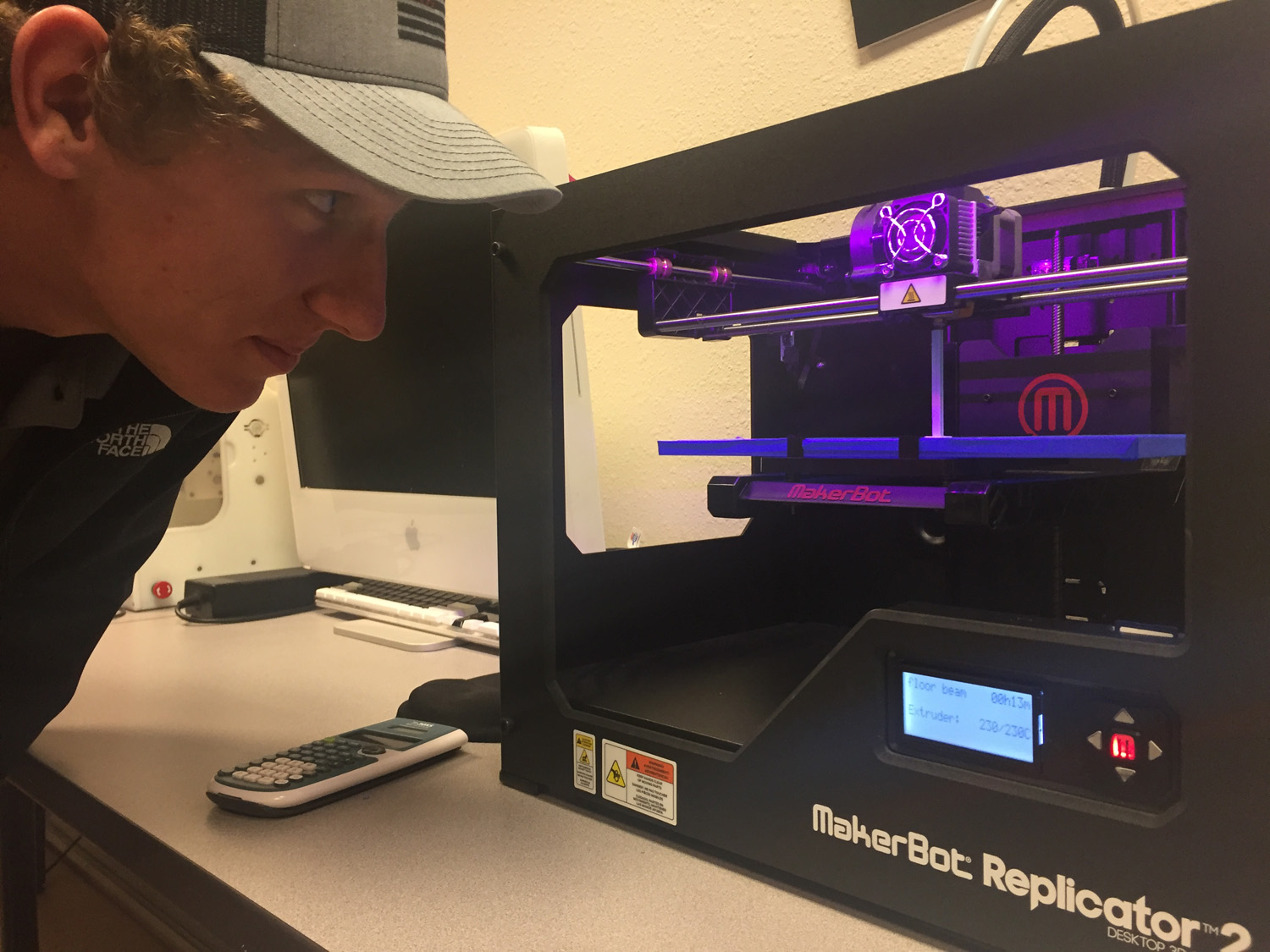 Moreu said the idea of using 3D printing in a classroom setting is very new. He got the idea to incorporate the idea into his class from a book he recently read called "Bold: How to Go Big, Create Wealth and Impact the World" by Peter Diamandis and Steven Kotler.
"Like sensors, 3D printing is one of those exponentially changing discoveries," he said. "It's a new idea now, but everybody will be using 3D printing in five years."
Moreu, an assistant professor in civil engineering, said this gives students valuable experience in how engineers work in industry, translating plans into reality. The 3D printing component makes the numbers and blueprints more real, he said.
Students in the design course were tasked with completing design projects that expose them to real deadlines, engineering codes, deliverables, scheduling, and a final presentation of their work to a hypothetical board of governors that selected the best group to do the project.
He said the students had to learn the 3D printing technology very quickly, and they had no problem being up to the task.
"The students didn't know anything about 3D printing, so they had to learn," Moreu said. "But it's not a matter of being easy or hard. It was something they were interested in learning about, and because of that, they were able to learn fast."
Students were able to use two 3D printers, in which they could print out different kinds of materials, through a partnership with the Social Media Workgroup at UNM and its director, Andrea Polli, a professor of art.
Moreu first offered the course in fall 2015, but added the 3D component this semester. Students in the course said the 3D experience was valuable to them.
"Normally we would use structural software for a project like this, but with this, I got a physical feel for what we were building," said Aron Robbins, a senior in civil engineering.
Another student, Michael McAninch, a senior in civil engineering, said he thought what he learned in the project would be immediately transferrable to a career.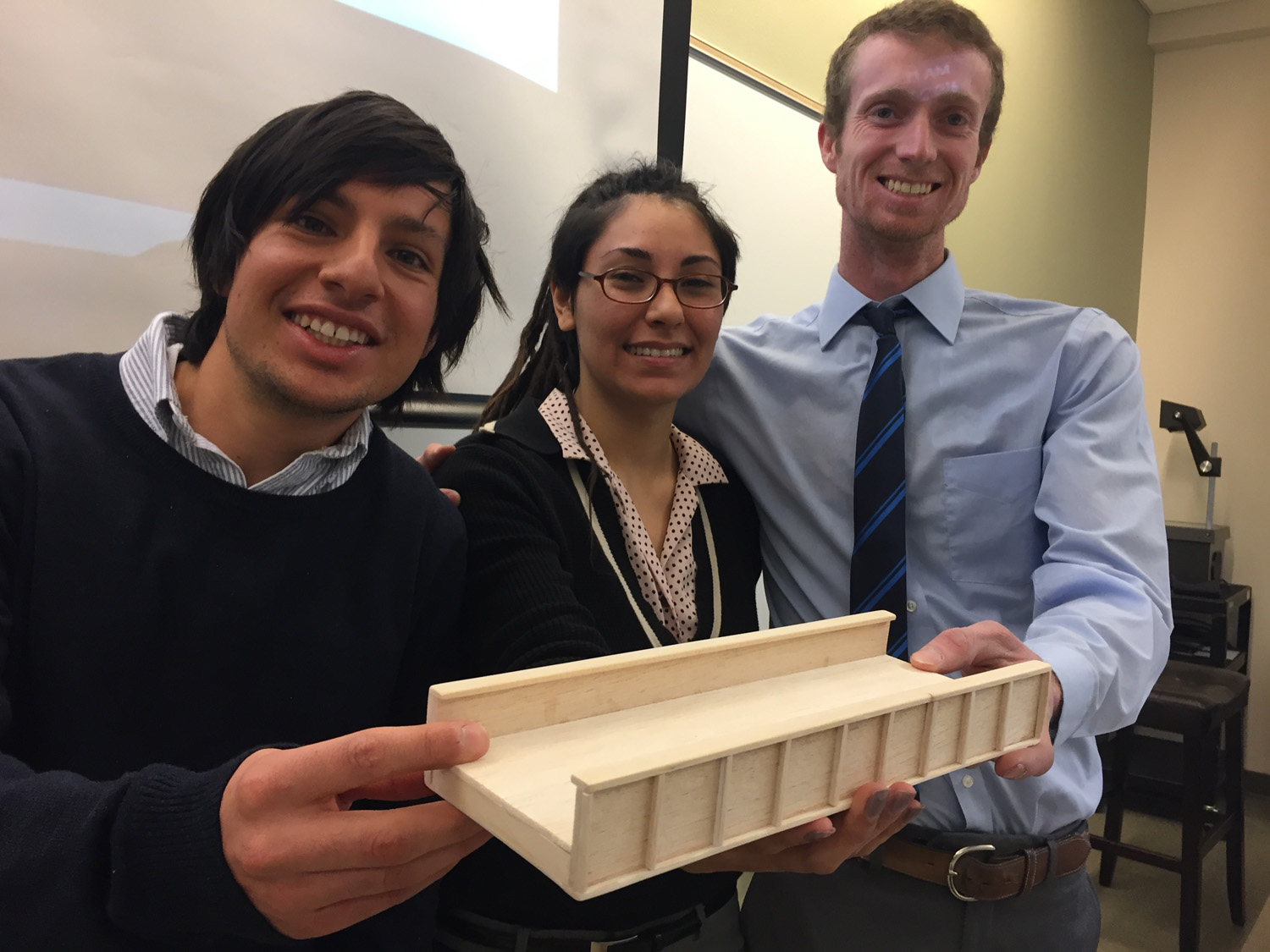 "It taught me about the process of a project, because with the 3D printers you can only print one piece of the project at a time, so you have to figure out which pieces to print in what order and how to put them together, just like in real life," he said.
Moreu said studying structures can be intimidating, especially for students not specializing in that area, but adding the 3D component in the course makes it easier to understand.
"There is a little fear of this area, but when they create something they can see and touch, it makes it seem less complicated and may even encourage some students to want to do further study in the area of structures," he said. "It's a great example of active learning and empowering students, and it allows them to see their work and catch mistakes early in the project."
Moreu said he is planning to incorporate 3D printing into other courses in the future. He said in addition to the 3D component for this course, he incorporated guests from industry to speak to his class and included a segment at the beginning of the semester where students investigated the rail bridge on Central Avenue, becoming familiar with topics such as loading, impact, track design, cost-effective solutions, and constructibility.
Top photo:  Michael McAninch supervises the fabrication of one of the floor beams at the Social Media Workgroup. 
Second photo: Students proudly show a model of their bridge.