Welcome back from dean Christos Christodoulou
January 8, 2019 - by Christos Christodoulou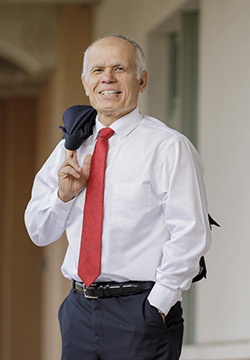 Dear Faculty and Staff,
Happy new year and welcome back! I hope you had a great holiday season and were able to spend time with family and friends and managed to recharge.
As we start the new semester, I would like to reflect on some of the successes we had last year and inform you of the new initiatives that we will be pursuing this year.
Recruiting and Retention
This remains the No. 1 goal for the School of Engineering. This past fall, School of Engineering enrollments dropped by 2.85%, which was a smaller drop than what the University as a whole suffered. In the last year, we hired our own student recruiter, Alex Gordon, to help us reverse this trend. Alex has been working very hard with Steve Peralta and the Engineering Student Success Center team to enhance our recruiting and retention efforts. They have visited several high schools and attended recruiting events across New Mexico and the surrounding states.
In addition, UNM established an enrollment task force that I am co-chairing with Terry Babbitt. The goal is to develop recommendations to increase enrollment at all student levels. Student retention will remain a major component of an effective strategic enrollment management plan, and the task force will evaluate data-driven evidence to propose action that can improve the return rates of non-degree, undergraduate, graduate and professional students. We expect to have some short-term recommendations this semester.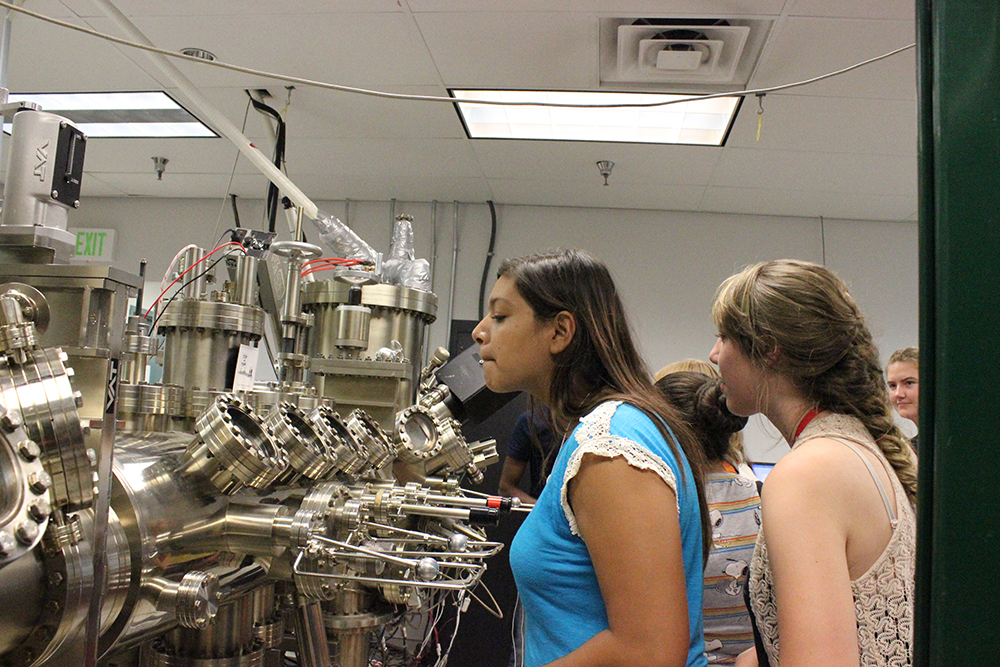 This summer, a program called EUREKA! was organized by the Honors College in collaboration with the Anderson School of Management and the School of Engineering with the goals of engaging exceptional high school students, introducing them to UNM as a destination learning space, and invigorating them through a unique summer research, creative, and entrepreneurial experience. Participants had an interest in developing leadership skills and in gaining hands-on engineering and business applications.
In an effort to boost graduate student enrollment, we hosted the first graduate student recruiting event in early March. Several prospective graduate students were in attendance from all over the United States. This year, we will invite even more students to participate in this annual event.
We now have three fully-online master's degree programs (construction management, space systems engineering, and the Internet of Things). In addition, the Department of Computer Science is working on an online certificate that will start in fall 2019. It is our hope that these online programs will help boost our enrollment.
Our Engineering Student Success Center team has continued our support of a variety of high school and middle school outreach programs. I want to thank the entire team, as well as the faculty and the students who helped with high school visits and other recruiting events.
Marketing and Communications
We have continued our campaign to revamp the School's image and increase awareness of our faculty, staff, and students' successes, with the ultimate goal of boosting enrollments, enhancing our national reputation, reaching our alumni, and strengthening our corporate partnerships. We increased our marketing budget to advertise the School in national venues, such as the ASEE First Bell electronic newsletter, and produce videos that highlight the School's strengths in teaching and research (see the latest video here). Our biweekly "Quick Takes" are emailed to all our alumni and several companies. In addition, we hired a webmaster, Bill Collins, to work with all the areas of the School in enhancing and boosting our web presence, with a special focus on making our websites easy to use for future and current students and make sure they are aligned with the latest branding efforts of UNM.
In 2018, our school climbed in the U.S. News and World Report rankings to No. 83 from No. 99. We hope this trend continues.
We also hosted the WEEF-GEDC 2018 conference. This is was joint annual summit of the World Engineering Education Forum (WEEF) and the Global Engineering Deans Council (GEDC). WEEF-GEDC 2018 was held in November at the Albuquerque Convention Center. This was the first time the event was held in the United States. The theme of the conference was "peace engineering," which focuses on science- and engineering-based solutions to the world's grand challenges. Ramiro Jordan, professor of electrical and computer engineering, chaired the conference, which was attended by 469 people from 44 different countries, representing 301 universities, companies, and organizations. Thanks to Ramiro for a very well-organized conference and for the great publicity we received.
Faculty and Staff Salaries
Last year, the School initiated a pilot program called the "base plus" compensation model. This program is open to any faculty member in the School of Engineering who has sufficient external funds available for the salary increase. All faculty members participating in the program can receive up to 10% bump to their base salary. To participate in this, faculty should also remain productive in all areas of the University's mission of education, research/scholarship/creative works, and service to the School and the University.
We also have established a meeting each semester with myself and the School staff, with the goal of discovering ways to initiate opportunities for staff development. We hope to come up with some concrete steps this year.
Research and Industry Collaboration
The School's annual research expenditures in FY18 were close to $35 million. This was the highest number in more than 20 years, and our School remains one of the most productive colleges at UNM in research. The F&A (Facilities and Administration fee) return from our research expenditures is a major source of revenue for the School and departments, and it is used for new faculty startups, summer support, rent and staff support for the School's research centers, and is a source of discretionary funding for PIs.
UNM was ranked No. 32 in the world for utility patents granted in 2017. UNM ranks higher than many larger, more prominent institutions in this metric. It should come as no surprise that the patents are dominated by those from the School of Engineering.
Diane Peebles, a Sandia National Laboratories scientist, began her role as the manager of New Mexico Partnerships in April. Her goal is to find new ways to connect the School and UNM to research and engagement opportunities with Sandia.
In addition, Christina Salas, an assistant professor in the Department of Orthopeadics and Rehabilitation in the School of Medicine and a research professor in the mechanical engineering, was appointed as the special assistant to the dean for Health Science Center relations.
We had two faculty (Mohamed El-Genk and Mahmoud Taha) join the ranks of Distinguished Professors at UNM. Congratulations!!
School faculty were very successful in winning several large awards. Under the leadership of Andrea Mammoli in the Department of Mechanical Engineering, the School led a statewide effort on a $20 million, five-year, National Science Foundation grant to modernize the electrical grid and to make it more resilient, reliable, and to handle renewable technologies of the future.
Rafael Fierro, professor of electrical and computer engineering, led a School of Engineering team to secure a $6.7 million cooperative agreement from the Air Force Research Laboratory to focus on agile manufacturing techniques of the future. This agreement will focus on four main research areas: multi-material additive manufacturing; machine learning and transfer learning; machine vision and scene decomposition; and advanced manufacturing concepts.
Finally, the School launched a faculty expertise directory, which includes 188 tenure-stream and research faculty. This directory makes it simple for prospective students and industry to identify experts in their fields.
Faculty Hiring
Last year, we had a very successful year with eight new faculty and four lecturers joining the School. This semester, we will be interviewing for nine new tenure-track faculty positions, so I hope we all get involved in attracting the best possible talent like last year.
Economic Development
The School of Engineering continues to play a major role in research and the education of the current and future engineering and computer science workforce for the entire state.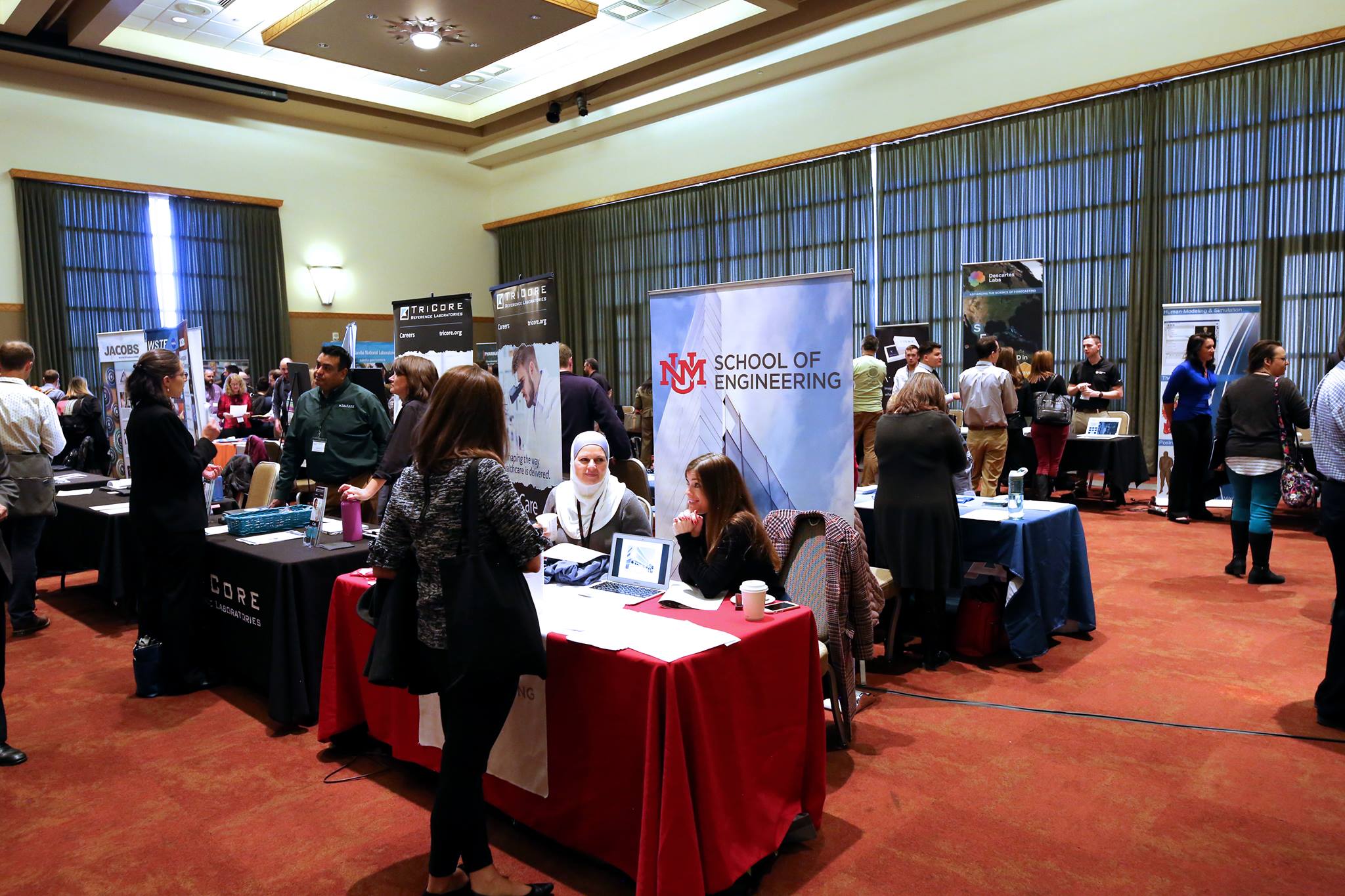 For the second year in a row, business, academic and economic development and government leaders from the city, state and region converged at UNM to meet with recent highly-trained STEM professionals who are in and out of New Mexico. STEM Boomerang was held Dec. 20 at the Student Union Building at UNM with the main purpose of connecting the dots between the many highly-paid job opportunities that exist in New Mexico in STEM and other technical areas and graduates from New Mexico who may believe that the state has little to offer its STEM professionals. The School of Engineering was one of the major sponsors of this event that featured the mayors of Albuquerque and Santa Fe, as well as President Stokes as the main speakers.
Fundraising
We had a very good year last year in terms of meeting the goals set by the UNM foundation. This January, Connor Adams will join Leslie Currie to strengthen the School's development team. This year we will embark on a multiyear, large fundraising campaign to raise funds for student scholarships, student organization support, faculty endowments, new research initiatives, new labs and infrastructure upgrades. This campaign will target alumni, foundations and corporation that would like to invest in SOE's future.
Alumni
We continue to have a very active alumni board that helps promote the goals of our School. This group has been very instrumental in introducing me to various outside engineering, business, and community organizations. This group, under Courtney Holmes' leadership, helped the School attract 425 attendees to our Distinguished Alumni Award banquet event last year. This was the most attended DAA event in the last 20 years.
We have also received many generous donations from a lot of our alumni that will definitely help shape our school for many years to come.
Deans Industry and Innovation Board (I&IB)
A new, 13-member advisory board was established whose primary purpose is to assist the dean's leadership team on all matters pertinent to the School's vision in order to fulfill its mission. Board members consist of leaders in industry, government, and academia. This team also has deans and vice presidents of research from other major research universities as well.
Farris Engineering Center
We hope to start new construction in the basement of Farris Engineering Center sometime this summer. The primary focus will be construction of the Formula SAE facilities.
In closing, I would like to emphasize that I am very proud of our student, staff, and faculty successes for the year 2018 (check our Quick Takes emails for the latest successes).
Thank you all for your contributions and extraordinary dedication to our students.
Please accept my best wishes for a great and productive new year.
Christos Christodoulou