Svihla appointed special assistant to the dean for learning sciences
February 20, 2019 - By Kim Delker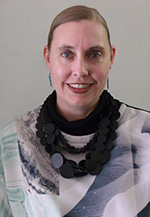 Dr. Vanessa Svihla, a University of New Mexico learning scientist with appointments in the School of Engineering and the Organization, Information & Learning Sciences (OILS) program, has been named special assistant to the dean for learning sciences.
Dr. Svihla will work with Christos Christodoulou, Jim and Ellen King Dean of Engineering and Computing, to serve as a resource to the School of Engineering's faculty interested in developing engaging and effective assignments and classroom strategies based on learning sciences research.
Dr. Svihla will also provide guidance on assessing and evaluating the impact of changes regarding learning. In addition, she may assist in matters related to the educational impact of faculty grant applications.
Her appointment was effective Feb. 1.
Dr. Svihla conducts research on how students learn and develop as engineers, especially related to design projects, and has worked closely with the School of Engineering the last few years as part of an ongoing NSF grant called "FACETS: Formation of Accomplished Chemical Engineering for Transforming Society." She is working with Abhaya Datye, Sang M. Han, Jamie Gomez, and Eva Chi, all from the Department of Chemical and Biological Engineering. The mission of that project is to transform engineering education through introducing design concepts early in the engineering curriculum, both to enhance the learning and relevance of the material and to familiarize students with design thinking.
In 2018, she was awarded a National Science Foundation CAREER Award for Framing and Reframing Agency in Making and Engineering (FRAME), which examines the issue of "framing agency," or the ability for students to have choices when selecting a design project and know how to proceed when there are obstacles. And last month, she was honored by the New Mexico Legislature for her dedication to education and student preparedness in the classroom.