Casias becomes naturalized U.S. citizen; earns doctorate in electrical engineering
Casias becomes naturalized U.S. citizen; earns doctorate in electrical engineering
May 10, 2019 - By Victoria Peña-Parr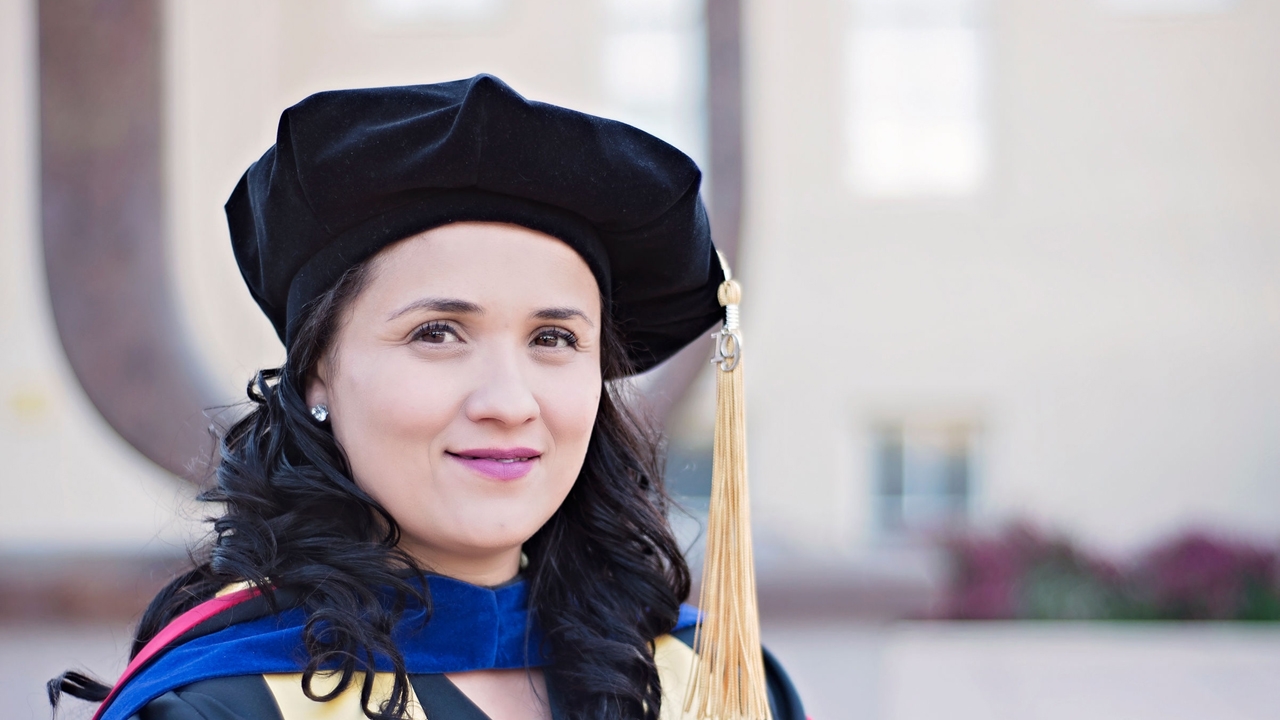 Growing up, Lilian Casias was always encouraged to the break norm, and her parents wanted to give her every opportunity to be able to do so. Because of this in 1996, her parents packed up their lives and moved their family from Mexico to the United States to give their children a better life and better opportunities.
After moving to Albuquerque, Casias was able to make the Duke City home. Throughout her childhood she remembers her parents teaching her the core values of hard work and perseverance by watching them live their daily lives—her father working as an electrician and her mother as a baker.
Casias distinctly remembers being enamored by her dad doing electrical work around the house and at work which she now recognizes as her original spark to go into electrical engineering. However, it was the support of her parents to obtain a higher education that really made an impact on her.
"My parents pushed me to go to school and get a degree—which is something that is not common. Usually Hispanic families have a tendency to say, 'well you received your high school degree, you can start your family now,'" explains Casias. "My parents were different. They wanted to me have a higher education."
Hispanic women are amongst the most underrepresented groups in the field of engineering—which would be deterring for most; however, it was when the UNM-led group Hispanic Engineering and Science Organization (HESO)—a Hispanic mentoring program intended to stimulate interest in engineering, science and other technical fields among traditionally underrepresented groups—came to Highlands High School to talk about UNM's engineering program that Casias realized her true calling. After seeing people that looked like her pursue an engineering degree, Casias realized UNM would give her the opportunity to break the status quo and build the number of Latinas in Engineering.
"They had a huge group called Hermanitos. They would tutor and help us with ACT Prep and tell us about their lives as student engineers," remembers Casias. "When you see someone that comes from the same background as you, you really connect with them. You think 'they're doing engineering, I can do that too.'"
In 2008, Casias graduated cum laude with a Bachelor of Science in Electrical Engineering while also actively participating in organizations such as Eta Kappa Nu (Electrical Engineering Honor Society), Tau Beta Pi (Engineering Honor Society), Phi Eta Sigma (National Honor Society) and the Society of Women Engineers (SWE). However, despite all her accomplishments, due to the status of her citizenship, Casias was forced to turn down positions with companies like Goldman Sachs and within the Department of Engineering working under one of her professors and give up on her dream of working for one of the United States' National Labs.
To make ends meet, Casias began working in retail, but she knew she was not happy there. Her life was able to turn around when President Obama implemented the Deferred Action for Childhood Arrivals (DACA). DACA was created to protect immigrant youth who came to the United States as children from deportation by giving them protection from deportation and a work permit.
DACA was all Casias needed to get her life back on track. She called one of her former professors letting them know that she was finally able to work in the field that she had dreamed of since she was a child. Welcomed with open arms, Casias returned to UNM where she was able to work and continue her education. Around the same time, Casias married her long time engineering friend, Miguel Casias and started her citizenship paperwork. Her husband was intrumental in pushing her to keep going strong and to have patience.
After receiving a Master of Science in Electrical Engineering, Casias decided to continue her education and aim for a Doctorate Degree; however, this is when the unexpected happened—Casias and her husband found out they were expecting a baby boy.
It was now more than ever that Casias realized how necessary it was to have a support system when working towards a degree—regardless of the program. With the support of her husband, son, family and programs on campus—including the UNM Children's Campus—Casias decided that she was going to continue to break the status quo and work towards her doctorate.
"It's not going to be easy because there are ups and downs in life," says Casias. "Just find something that catches your attention and stick with it. My son became my motivation. In the end, it's all worth it."
Since Casias has continued to break societal norms, Casias remembers the importance of having a good role model and how the influenced her as a kid. Because of this, one of Casias' passions includes educational outreach programs at schools around Albuquerque to show students that there is Hispanic women representation in STEM.
As Casias will be walking across the stage to accept her Doctorate Degree in Electrical Engineering, she will also be fulfilling her dream of working in a national laboratory as she has accepted a position at the Air Force Research Laboratory (AFRL) as a full-time Electrical Engineer. Furthermore, Casias will be implementing all that she has learned at UNM including using infrared technology research for defense purposes. Thanks to her husband, in 2018, Casias has also become a naturalized citizen.