U.S. Rep. Haaland visits computer science faculty
February 24, 2020 - by Kim Delker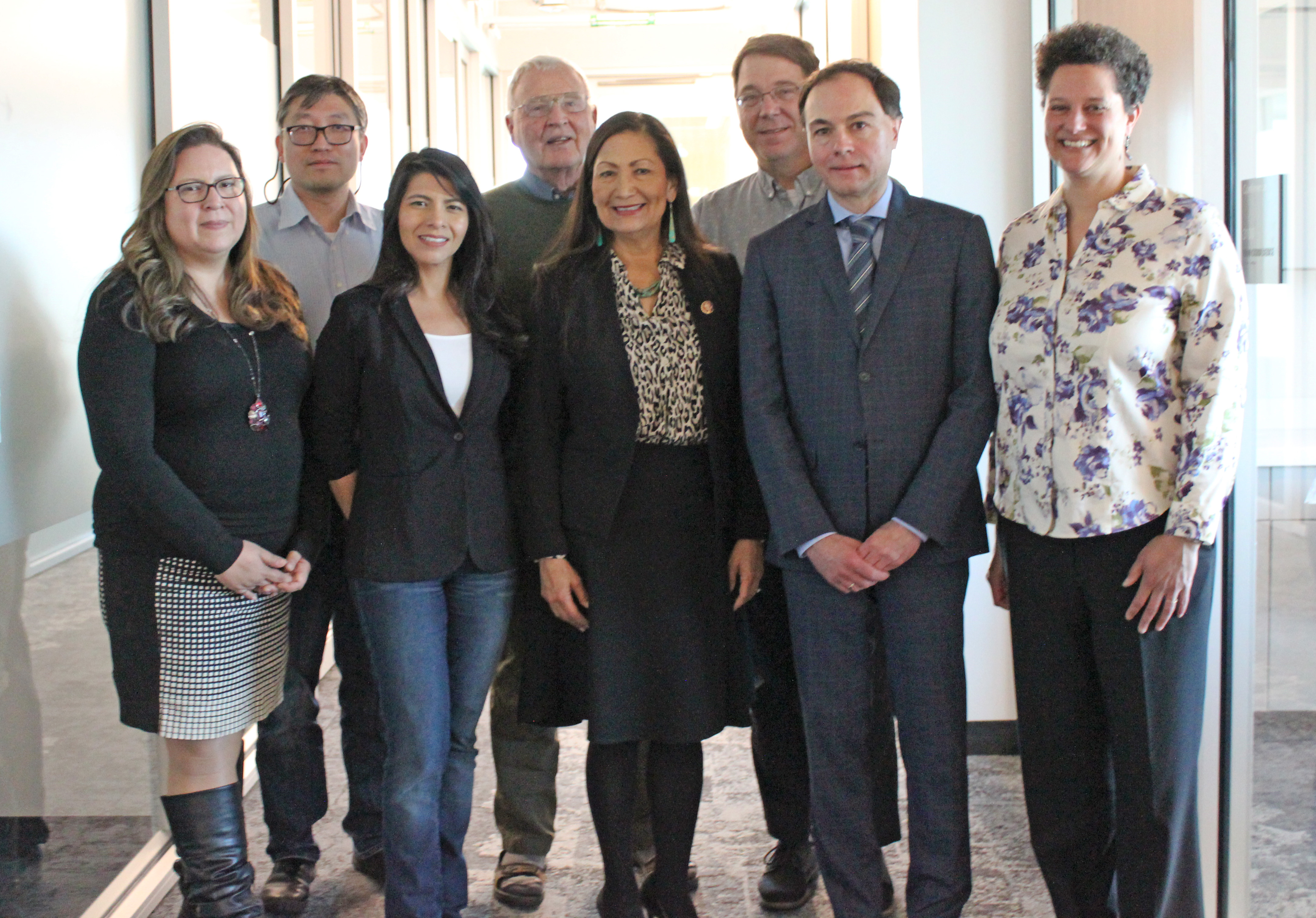 U.S. Rep. Deb Haaland, who represents New Mexico's first congressional district, visited The University of New Mexico's Department of Computer Science on Feb. 18.
Darko Stefanovic, professor and department chair of computer science, said Haaland and her staff were invited by the department's advisory board to speak to a select group of faculty to discuss some of the current innovative research going on in the department, as well as departmental needs and priorities.
Although Haaland said her professional background is in a different field, she recognizes that high-tech solutions are needed to solve pressing challenges like climate change.
"Technology is important for the future of our state to move our state forward," she said.
Stefanovic presented an overview of the department, showing rising enrollment over the last five years, which reflects an increased need for computer scientists. He presented the values of the department as making computer science education accessible, emphasizing high-quality research in the field as the flagship computer science program in New Mexico, and emphasizing inclusivity and outreach to those underrepresented in computer science.
Melanie Moses, professor of computer science, discussed the work UNM has done with CS for All. The program was started with a National Science Foundation grant and was designed to teach both high school teachers and their students the value of computer science and how to use it to solve problems. It was the first such computer science program in the country and had great success in attracting those in underrepresented groups. In fact, Moses said 75% of all CS for All students have been underrepresented minorities.
Despite the success, Moses said CS for All and the overall efforts to attract more students to computer science and train qualified teachers has suffered from a lack of sustainable funding.
Moses also discussed her recent work with algorithmic justice issues as The Interdisciplinary Working Group for Algorithmic Justice.
"We need to call out discrimination wherever it exists," Haaland said. "This is precisely why we need more underrepresented people in this field."
Trilce Estrada, associate professor of computer science, presented some of her research on machine learning and its applications in helping those with vision issues related to diabetes. She has been working with Albuquerque-based VisionQuest Biomedical, whose mission is ending preventable blindness using artificial intelligence.
Professor Lydia Tapia discussed how her research has evolved from using robotics to improve coffee delivery to now using machine learning to assemble satellites. She is also working on how machine learning can help stem climate change, as well as biological applications of her work on learning more about how to prevent allergic responses using molecular docking.
Tapia, who has been involved in a number of outreach efforts with Moses and other, reiterated the concern about making sure that there is funding for attracting underrepresented students to the field of computer science, especially Native Americans.
Haaland echoed that concern, saying that she would like to learn more about ways to solve these issues.
"Education is always a top priority for me," she said.