Biedron selected as faculty member of Cornell Center for Bright Beams
November 17, 2020 - by Kim Delker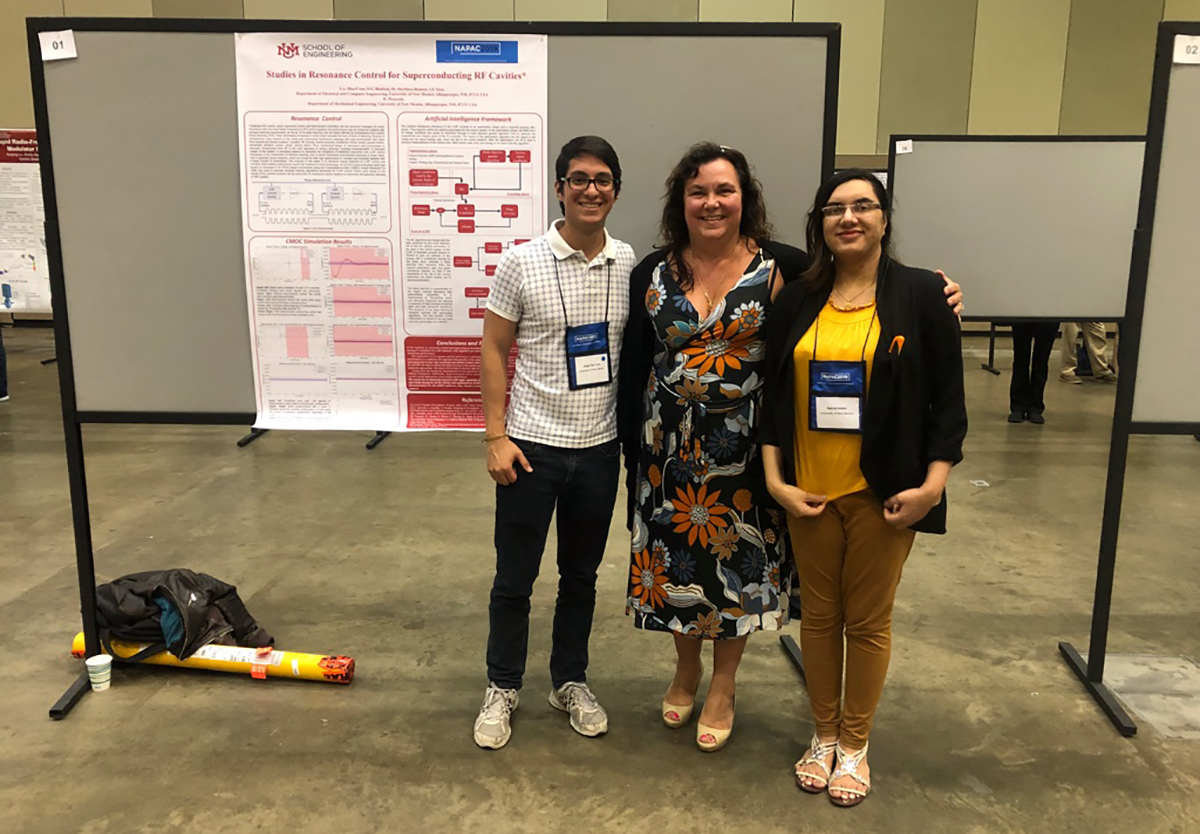 (From left): Jorge Alberto Diaz Cruz (UNM electrical and computer engineering Ph.D. candidate with Biedron performing research at SLAC), Biedron, and Aasma Aslam. Taken at the 2019 Particle Accelerator Conference in Lansing, Michigan. Photo by S.V. Milton (Los Alamos National Laboratory).
Sandra Biedron, a research professor in The University of New Mexico Department of Electrical and Computer Engineering and Department of Mechanical Engineering, has recently become a faculty member of Cornell University's Center for Bright Beams.
The Center for Bright Beams (CBB) is funded by the National Science Foundation as a Science and Technology Center.
The CBB's overarching research goal is to increase the intensity ("brightness") of beams of charged particles by a factor of 100 while decreasing the cost of key accelerator technologies. CBB promotes significant advances in scientific disciplines ranging from physics to chemistry to biology by enhancing the capabilities of the accelerators essential to research in these fields. It also conducts collaborative research with national laboratories and companies, leveraging their diverse expertise, and transfers technology to them. In addition, the center helps integrate the research into instruments that advance the frontiers of knowledge in life sciences, materials science, condensed matter physics, particle physics, and nuclear physics.
Biedron's faculty membership and involvement in the CBB has inducted UNM as a participating institution. Other participating institutions are Cornell University; The University of Chicago; University of California, Los Angeles; University of Illinois at Chicago; Northern Illinois University; Georgia Tech; Clark Atlanta University; Arizona State University; University of Florida, and Brigham Young University. Several Department of Energy national laboratories are also involved with the CBB, including Fermilab, Lawrence Berkeley National Laboratory, and SLAC National Accelerator Laboratory.
CBB addresses the current shortage of accelerator scientists with a comprehensive recruitment and training program that will inform and excite the next generation of scientists while improving the diversity of the field, Biedron said. One major goal of the CBB is to increase the diversity of graduate education in the field of accelerator science, in part through direct partnerships with leading Historically Black Colleges and Universities (HBCUs).
This year, Biedron became more involved after she recruited a female doctoral student, Aasma Aslam, and they were able to compete for a CBB graduate student award. Aslam's research is being conducted at Brookhaven National Laboratory, Argonne National Laboratory and UCLA.
Aslam is a doctoral student in UNM's Department of Electrical and Computer Engineering. She is also finishing a Ph.D. in computer science from the University of Hazara and research work at the University of Illinois, Chicago.
"Being involved with the center means many things to me," Biedron said. "Many of my colleagues are involved with the center and we are able to work closely together on new and different things. These 'things' are not only important scientific and technical research pieces but also help with increasing diversity in the field."