ACED@UNM partnership seeks to better prepare students for the workforce
February 11, 2021 - by Kim Delker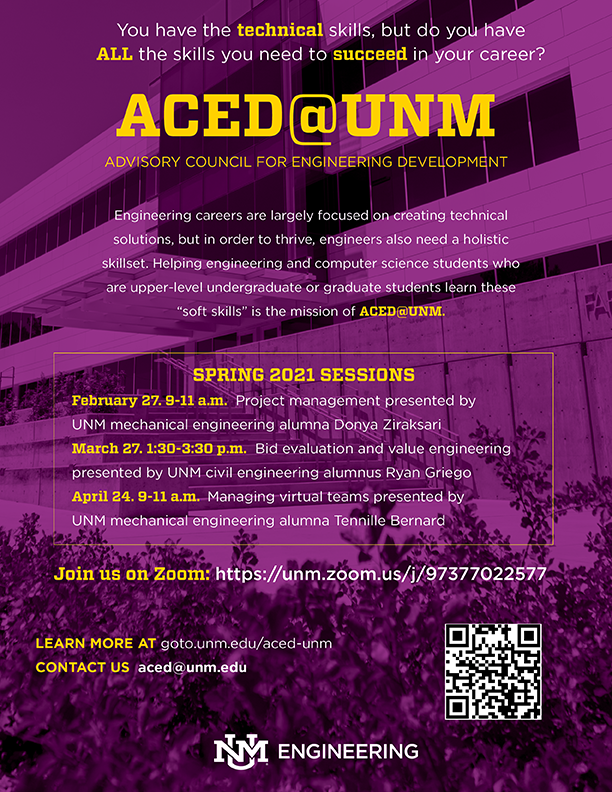 Beginning this spring, a new partnership inspired by the experiences of a University of New Mexico School of Engineering alumna is offering engineering and computer science students additional skillsets that will better prepare them for the workforce.
The Engineering Student Success Center is coordinating a new program called the Advisory Council for Engineering Development (ACED), which will help provide valuable career/soft and tech skills development to engineering and computer science students.
Former National Science Foundation Scholar and UNM Engineering Ambassador Donya Ziraksari connected with the Engineering Student Success Center director and internship coordinator to start conversations about this possibility of starting the ACED program. Ziraksari earned her bachelor's degree in mechanical engineering in 2014.
The three-member ACED advisory board also includes Tennille Bernard, who received her bachelor's and master's degrees from UNM in mechanical engineering in 2011 and 2014, respectively; and Ryan Griego, who earned a bachelor's degree in civil engineering from UNM in 2014.
Ziraksari, who recently began a new engineering position for DKD Electric, feels strongly that in order for engineers and computer scientists to be successful, they need to know more skills than just calculus or quantum mechanics.
"When you enter the workforce, you realize that you need soft skills in order to be successful," she said. "By offering training in skills like project management, we will be preparing our engineering students even better, giving them training that few other engineering students are receiving."
Ziraksari is certified in project management and has taught several courses on the subject, including workshops for School of Engineering and NSF Scholars at UNM. She said such training is usually offered at substantial cost, so by having the School of Engineering incorporate project management and other skills into the engineering program through the ACED partnership, students are getting an even greater value from their degree.
"When students have soft skills, they are better equipped for the workforce, and graduating students with these skills will encourage companies to recruit our students and even attract them to New Mexico," she said.
In addition to providing training to students on project management, she would like to work closely with UNM to expand the internship and job opportunities that are offered to UNM Engineering graduates. She said there are many more career opportunities for engineers outside the large employers that currently recruit heavily from UNM.
"I want students to know all that is possible for them to do," she said.
The spring sessions will be held on Zoom beginning this month. Subjects include project management, bid evaluation and value engineering and managing virtual teams. More information about the sessions can be found on the website.
Additional topics in the future will include engineering ethics, introduction to Six Sigma and global communication.
For additional information about the program, contact Elsa M. Castillo at (505) 280-1833 or Nada Abdelhack at (505) 277-1403 or direct questions to aced@unm.edu.