UNM's Formula SAE earns first place in electric car competition
February 24, 2021 - by Kim Delker
The University of New Mexico's Formula Society of Automotive Engineers (FSAE) teams placed in the top five in the world in two recent virtual competitions that focused on team organization and operations.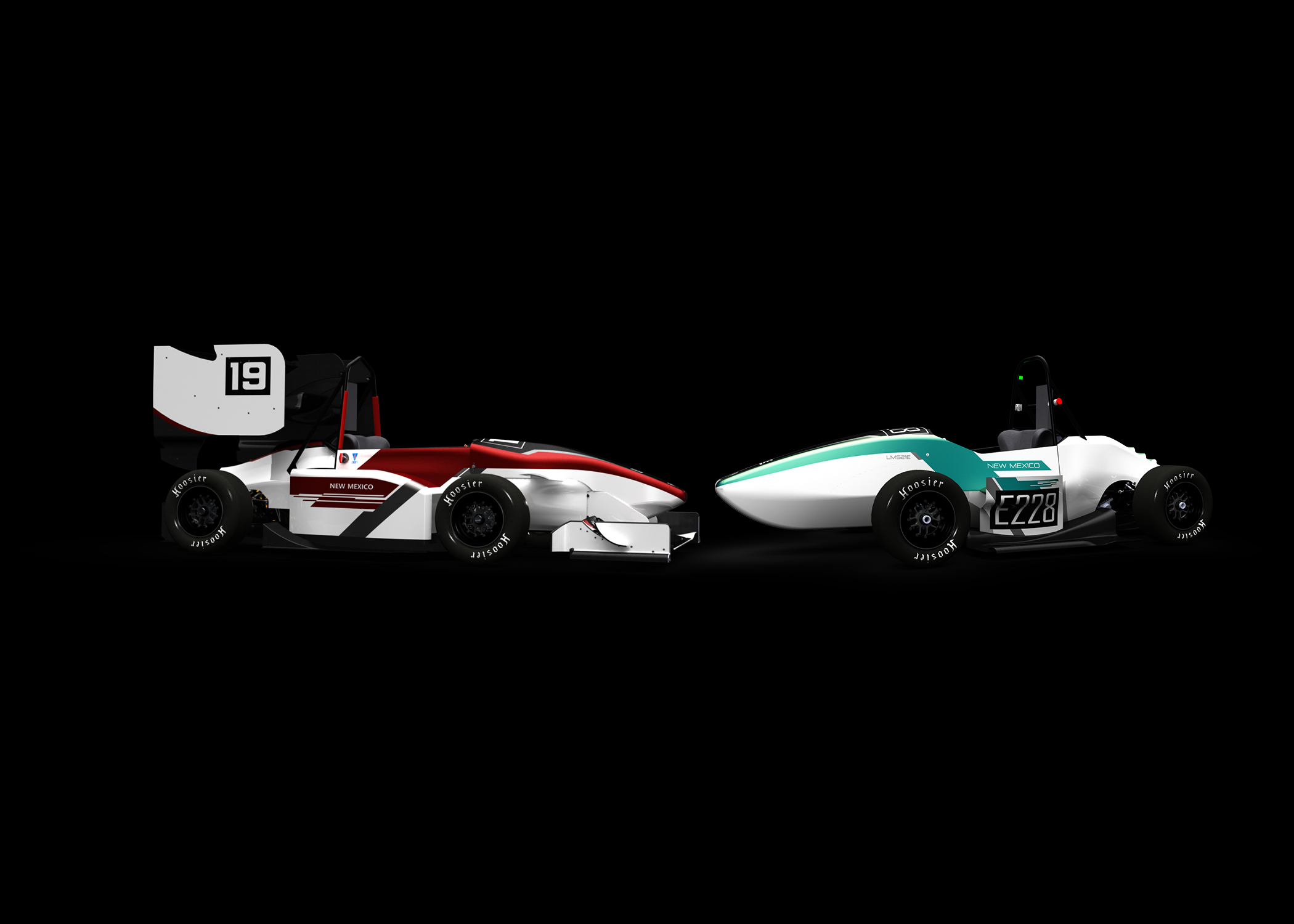 Above: Internal combustion car rendering (left), and electric car rendering (right)
The FSAE Knowledge Event featured 142 teams in the internal combustion competition and 54 teams in the electric vehicle contest. Both categories included teams from top engineering schools around the globe.
For the first time this year, UNM competed in the electric vehicle (EV) category, placing No. 1. In a separate event, the internal combustion engine team placed fourth.
"UNM was only one of 22 teams that entered both competitions and the only school in the competition to finish in the top 10 in both categories," said John Russell, professor of mechanical engineering and director of the FSAE LOBOmotorsports program. "This is a fantastic accomplishment for LOBOmotorsports."
Russell points out that EV competitors included 10 of the top 11 engineering schools in the country, including Caltech; Massachusetts Institute of Technology; Carnegie Mellon; University of California, Berkeley; Georgia Tech; and Purdue University.
One of the EV contest judges said this about the UNM team:
"The presentation was clear and focused on the structure of the program, and the organization flowed well. The focus this year was on the more 'soft skills,' including communication and teamwork. I appreciated how your program considers the demographics of your state/region when creating programs. The presenters were very professional; it was clear there was a focus on teamwork and that you are building strong relationships with your community. Overall, yours was a very well-done presentation."
In the internal combustion contest, at fourth place, UNM placed higher than schools such Michigan State, Rutgers University, Duke University, Texas A&M and Brown University.
Unlike a driving contest that relies upon speed and performance, these contests focused on presentation, with both teams emphasizing the unique integration of the FSAE program into the engineering curriculum as an alternative senior design program.
The internal combustion presenters were seniors Eric Benfield and Wyatt Daskalos. Benfield is the 2021 project manager, and Daskalos is a business major who works with the team.
Benfield said that he has learned a lot from being part of the team this year, especially how to effectively work and communicate within a large team.
"While working within larger teams in industry, it becomes extremely important to keep good communication. One wrong move and the project could be at risk," he said. "A dedicated team focused on a common goal is unstoppable. I know we have a dedicated team this year."
The EV team presenters were Leticia Mercado and Anthony Lobato both from the 2021 team and seniors in mechanical engineering. Different presenters were required as the presentations were given at the same time to separate sets of judges. The same content was used for both presentations to show how UNM integrates both internal combustion and electric vehicle projects. 
Mercado, who is driver controls lead and a member of the data acquisition team, marketing team, and manufacturing team, said this unusual year has taught her a lot. She said she takes pride in knowing that members of LOBOmotorsports come away with skills with them that they will be able to apply to any discipline in the future.
"FSAE is much more than building a racecar. Each member has remained dedicated through obvious setbacks, and this year's team has proven that they can overcome any obstacle," she said. "This year's team has taught me the importance of being able to work on a team. I have come to realize that having the ability to ask for help is actually a strength. As the saying goes, 'A team is only as strong as its weakest member.' "
Mercado said serving the various roles on the team has prepared her for a career in engineering and beyond.
"As a member I have learned the principles of engineering design and will be able to apply my acquired skills to any industry," she said.
The awards were presented live on YouTube.
UNM will next compete in the design competition, held virtually in April.