One year later, NSF S-STEM project making big impacts in the community
January 24, 2022 - by Kim Delker
Since the beginning of last year, a team headed by the School of Engineering at The University of New Mexico has been leading a five-year, $1 million project to improve student outcomes while also improving community outcomes.
One-fifth into that National Science Foundation (NSF) project, that is exactly what is happening, with technical projects ranging from sustainable farming to digitizing a publication now being implemented throughout the Albuquerque area.
The NSF Scholarships in STEM (S-STEM) Program is led by Tariq Khraishi, professor of mechanical engineering. Its mission is to discover new ways to promote academic success and retention among engineering and computer science students. School data shows that students in those disciplines tend to have a lower retention rate than UNM students in other majors, and that is especially true of those with high financial need and first-generation students.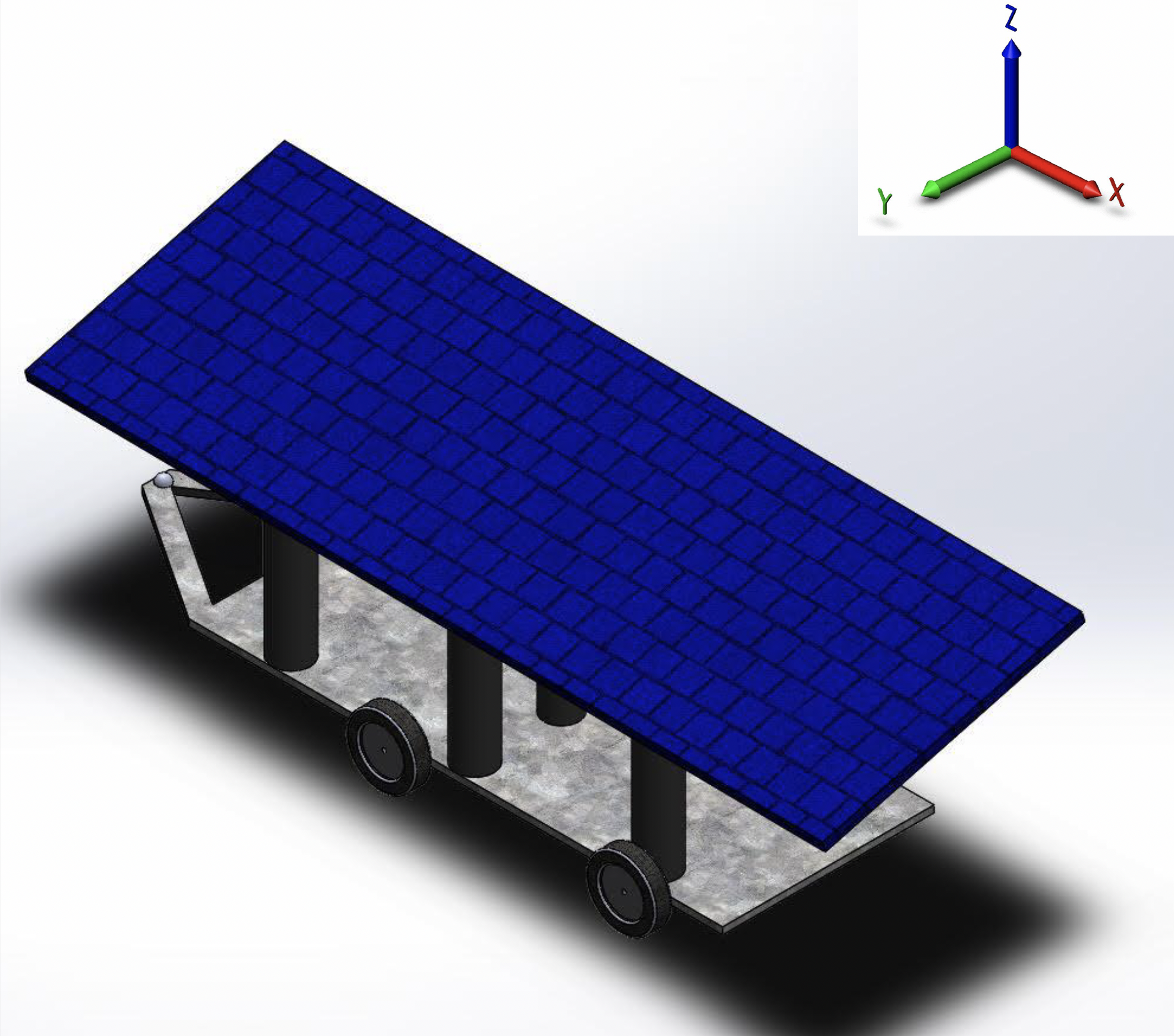 One project involves converting an old manure trailer to a solar-powered trailer for Lutheran Family Services.
"The main success has been the mutual success to the community," he said. "This is a new concept for the School of Engineering. We've found that the students are very happy to help other people and get experience with real-life projects at the same time."
A key partner of the NSF S-STEM team has been the UNM's Community Engagement Center (CEC), who since the spring of 2021, has leveraged their over 20 years of community-engaged partnerships to make these experiences possible. The success of the School of Engineering projects is in large part due to the long-term relationships with the community partners that organizations such as CEC has nurtured over time. Since 1997, the CEC has nurtured antiracist leadership development of the next generation of civically-minded youth at UNM and CNM from local neighborhoods for community capacity building for a just world. Also, CEC has developed long-term relationships with more than 30 community organizations to address community-identified needs in the areas of education, tribal/Native communities, health, immigration, food/nutrition, and economic equality. Over 1,000 community-engaged apprenticeship experiences have been one strategy that the CEC has used at UNM to nurture university-community relationships and to date they have engaged students from across every academic department at UNM.
Kiran Katira, director of the CEC, said her organization became involved to help facilitate community engagement experiences for the students in the project.
"First-generation, low-income students rarely have the opportunity for that level of involvement," she said. "These projects are providing cultural capital and real-world experience to this highly-diverse pool of students."
By fall 2021, 18 S-STEM scholars were placed with six community partners. Students were matched with sites based on their skills and the needs of the sites, with three scholars placed at each site.
One of those projects, with Simply Salud Clinic, a community health office in Albuquerque dedicated to patient care for those in need, involved the planning and implementation of an efficient system for drip irrigation. Students Julian Rojo, Arturo Sanchez and Schuyler Tyler worked on this.
The structure was in place for the system to work, but the clinic lacked the expertise to push it to implementation. And the students also discovered other unexpected issues affecting the water pressure.
"This gave us the opportunity to learn new skills," said Arturo Sanchez, a senior in mechanical engineering. "We thought this was going to be really easy at first, but we realized that a lot of their irrigation system had been vandalized and there were leaks everywhere."
Students on the project say that they did not have any experience dealing with irrigation systems before this, but they learned how to use their problem-solving skills to tackle obstacles. They also learned that engineering can be helpful to society in a real and impactful way, and that helping businesses doesn't require extensive knowledge of a problem, just the motivation to help others.
"This provided an opportunity to help the community, we were happy to help them out," said Rojo, a senior in chemical engineering.
The group completed the irrigation on one zone, and next semester, the scholars will complete work on the other two zones.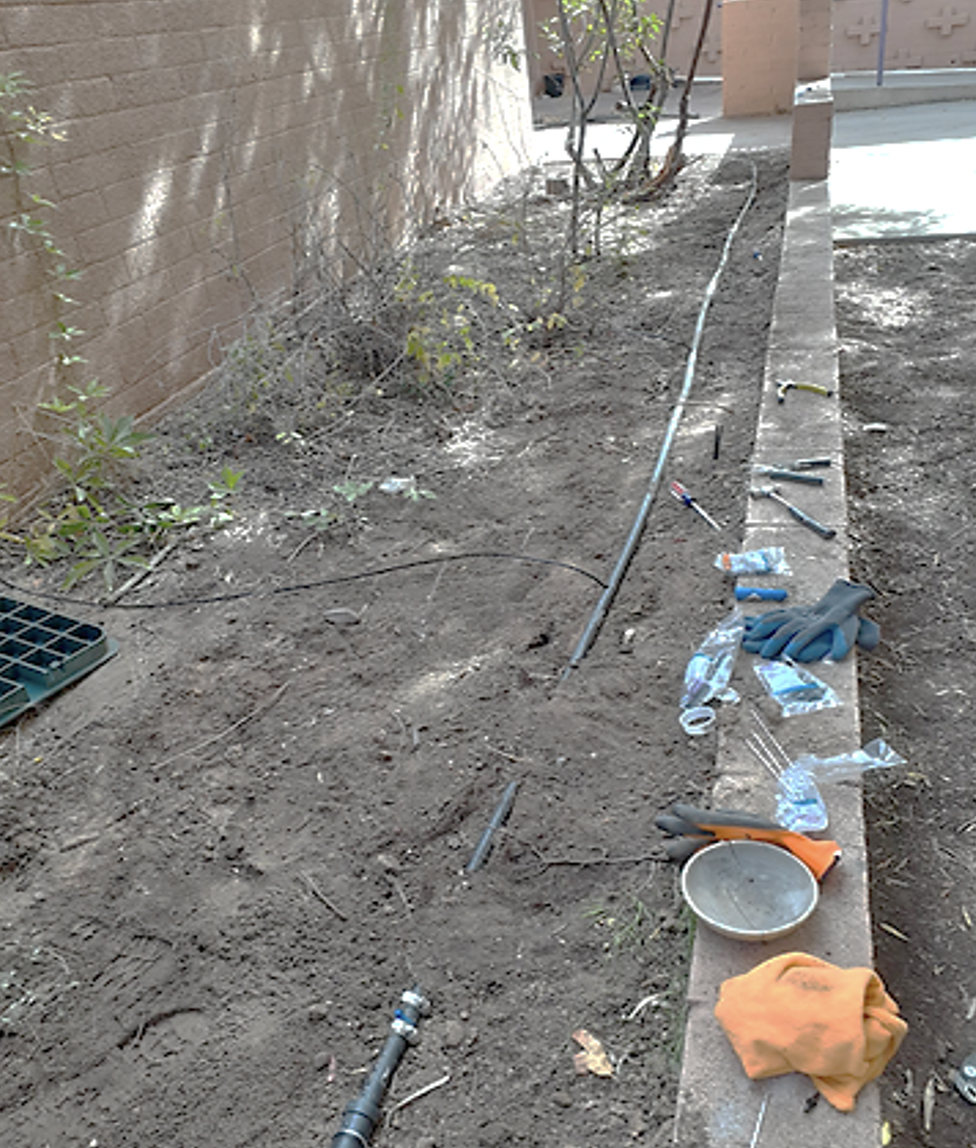 NSF S-STEM students are working with Simply Salud Clinic to implement an efficient system for drip irrigation.
"We went above and beyond to make sure that Simply Salud got what they needed because they go above and beyond for the community and we really appreciate what they do and we know they appreciate what we do," Sanchez said. "They trusted our expertise, and we were able to deliver a project efficiently on budget and on time."
For Lutheran Family Services, engineering students Andrew Ortiz, Levi Premer and Michael Gamez are working on converting an old manure trailer to a solar-powered trailer that can be used for various uses, from the Rio Grande farm they work with to the greenhouse to lighting to being used as a power source for events (powering food trucks, music or lighting). Lutheran Family Services serves refugee and asylum seekers, helping them learn skills to be independent and self-sustaining.
The students got the project late in the fall semester, so they will continue the project into the spring and will be seeking sponsors and funding for needed equipment. Their plans are to make the conversion as simple and adaptable as possible and to include Lutheran Family Services clientele in the project as well so they can learn about the technology. They are hoping to finish the project by June.
"I'm personally very excited. I love working with Lutheran and our mentor Brian [Naughton]," said Premer, a senior in mechanical engineering. "It's a great cause to be able to create a greener farm environment where they self-source their energy."
Other organizations participating were:
The Center for Social Sustainable Systems, which works on preserving acequias and sustainable solutions to save land and water by traditional methods. Students conducted research on water rights issues and acequias and helped re-establish a digital newsletter.
Encuentro, which engages Latino immigrant families in educational and career development opportunities and building skills for economic and social justice. Students helped with online data management and created a virtual outreach system to track home health aide participants.
Albuquerque Peace and Justice Center, where students are helping to improve the efficiency of computers and helped with new Internet installation and training of the staff. Students helped to improve the efficiency of their existing computers and helped with their new Internet installation and training for staff.
Polk Middle School, which is working to become a model STEAM (science, technology, engineering arts and math) magnet school. NSF S-STEM scholars worked with science teachers to create and demonstrate science experiments for middle school students and worked on the garden expansion project at the school.
Over the course of the grant, the NSF S-STEM project will be funding scholarships for 120 full-time bachelor students in engineering or computer science (up to $5,000 a year for 24 students annually), with a special emphasis on academically talented, low-income STEM students. The project is being coordinated through the School of Engineering's Engineering Student Success Center by Anyssa Romero Choy.
Khraishi said the first year has been a foundational year, but future plans include expanding the program and making more of an impact.
"Long-term, we would like to change the culture of the School of Engineering to emphasize to students that their learning has a community impact and that there are great things they can do with that education," he said. "In addition, with this program, the students earn academic credit and receive internship pay, which is very attractive."
Co-principal investigators on the grant are Heather Canavan, professor of chemical and biological engineering; Trilce Estrada, associate professor of computer science; Maryam Hojati, assistant professor in the Department of Civil, Construction and Environmental Engineering; and Christos Christodoulou, Jim and Ellen King Dean of Engineering and Computing and Distinguished Professor in the Department of Electrical and Computer Engineering.
Additional UNM partners on the project are project evaluators Kristine Denman and her team at the New Mexico Statistical Analysis Center), and Cristyn Elder, an associate professor of rhetoric and writing at UNM.
The project is funded from the Division for Undergraduate Education and the S-STEM programs of the NSF.
Community partners who are interested in becoming involved with the project are encouraged to contact Kiran Katira at the CEC at kkatira@unm.edu. Those with questions about the program can contact Anyssa Choy, program manager, at aromero18@unm.edu.