Nuclear Engineering Funds
Nuclear Engineering Funds
Thank you for considering a gift to The University of New Mexico Department of Nuclear Engineering. Your gift today influences the future of our students, our communities, and our world.
Suggested Funds
Department of Nuclear Engineering Chair's Fund
---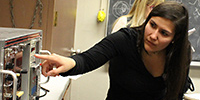 Through your generosity to the Department of Nuclear Engineering, you provide the flexibility to respond to urgent needs as they arise and to fund groundbreaking initiatives.
Scholarship for students transferring from community colleges
Recruitment strategies to ensure we attract New Mexico's best and brightest
Professional development funds for undergraduates
Recruiting and retaining top-notch faculty
---
Excellence in Nuclear Engineering Scholarship fund
---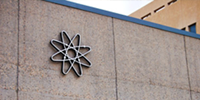 This fund provides scholastic support for students enrolled in the Department of Nuclear Engineering.
---
Busch, Cooper, Roderick Fund for Teaching Enhancement
---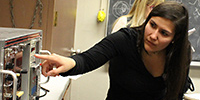 This fund will create teaching assistantships for graduate students interested in a career teaching nuclear engineering. The fund would also support professional development opportunities for faculty that are designed to enhance teaching. The goal is to reach $100,000 to endow this fund in perpetuity.
---