Alumni Leadership Board
Message from the Chair
Message from the Chair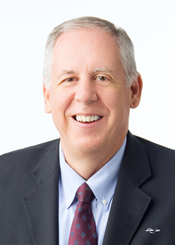 Dear UNM School of Engineering Alumni,
Let me first express my sincere hope that each of you is doing well. I am proud to share some exciting news about the Our Time campaign, our rankings and the search for a new dean.
With the support of the UNM and School leadership, faculty, staff and students, I am pleased to announce the School of Engineering has launched a bold $50 million comprehensive campaign called Our Time. This campaign is all about people: attracting, retaining and supporting our students to reach their greatest potential, as well as providing resources to recruit and retain top faculty who are primed to inspire students in the classroom and in the lab. As chair of the campaign, my family has made a significant gift to support students and faculty because this was our time to give back to the School that launched my successful career. To learn more, visit ourtime.unm.edu.
Once again, the latest rankings place UNM Engineering as a top 100 engineering school, as ranked by U.S. News & World Report. The School of Engineering competes against universities across the nation for top faculty, students, and research dollars. The School is the highest-ranked engineering program in New Mexico, and the only Carnegie R1 (highest research activity) university in the state, putting it in the same class as MIT, Stanford, Purdue and other well-respected engineering programs in the country. UNM ranks No. 2 in impact of innovation for Mid-Sized Research Universities in the 2020 George W. Bush Institute and Opus Faveo Innovation Development poll.
And finally, for those of you who may not have heard the news, UNM Provost and Executive Vice President for Academic Affairs James Holloway has announced the launch of a national search for a new dean of the School of Engineering. Dean Christos Christodoulou, has been dean since July 2017, has graciously agreed to continue as dean until the new dean arrives, anticipated to be January 2023. It has been a true pleasure working with Christos, and we will miss him greatly but are hopeful and optimistic that our new leader will usher in an exciting future for the School.
In closing, it's great being a graduate of the UNM School of Engineering and a volunteer on the Alumni Leadership Board! I will always be very proud of UNM and for what the School has done for my career and family. I hope that our paths can cross soon as we contribute our time, resources, and money to help the School of Engineering reach its full potential! Go Lobos!
Brian G. Burnett, PE, F.ASCE
Chair, UNM School of Engineering Alumni Leadership Board