Alumni Leadership Board
Message from the Chair
Message from the Chair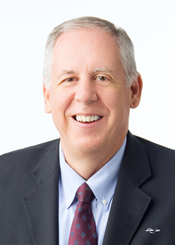 Dear UNM School of Engineering Alumni,
Let me first express my sincere hope that each of you is doing well and staying strong. For me, the time since early March has been of sadness, patience, and hope. My dad died after getting the virus. Along with this, my mom has been in isolation since early March and I've seen her in-person one time for about ten minutes. I realize that my story is not unique, as we've all had to deal with things unimagined in early 2020. My patience has also been tested as the impacts of the virus has lingered on, and it appears now that the only thing that will truly thwart its advance is a vaccine. And this leads to my hope. I remain very hopeful that a good vaccine is just around the corner and that we are able to socialize much more in early 2021.
As an alumni of the School of Engineering, I'm very proud of the efforts the leadership, faculty, staff, and students who have rallied together to create a safe environment for some in-person instruction to take place. This has been very complicated and yet the team has approached the issues with skilled problem-solving, which is what you would expect from a group of engineers and professionals! These efforts are a great of example of "leading with hope."
Your Alumni Leadership Board has taken the path of being hopeful, as well. On behalf of the board, we are missing you! We hope that 2021 is when we can get together at events like a United soccer game or the Distinguished Alumni Awards dinner. Our plans for an active year will be ambitious once we know it is safe to congregate in larger groups.
I'm excited to share that we have launched on the website a way for you to sign-up to volunteer for a wide-range of activities. Alumni now have eight major ways to become a School of Engineering Volunteer: 1) Town Hall or Recruitment Meetings, 2) Resume Critique, 3) Engineering Expo, 4) Hire an Intern, 5) Post Open Position for Employment, 6) Recruitment Events, 7) Alumni Testimonials, and 8) Event Support. Plus, we have made it really easy to indicate your interest. You just select your volunteer areas of interest(s), push the red Volunteer button, and then fill out some general contact information. When the event rolls around, the staff will contact with you to assess whether you can still help. It is our hope that we have created a much simpler way for you to connect with the School of Engineering and support its many activities and events.
In closing, I want to highlight that we are getting ready to launch a way for you to record how the UNM School of Engineering has impacted your life and career. We know that every Lobo has an inspiring story, so we are hopeful that by this time next year we will have hundreds of testimonials to share with prospective students around the world!
It's great being a graduate of the UNM School of Engineering and a volunteer on the Alumni Leadership Board! I will always be very proud of UNM and for what the School has done for my career and family. I hope that our paths can cross soon as we contribute our time, resources, and money to help the School of Engineering reach its full potential! Go Lobos!
Brian G. Burnett, PE, F.ASCE
Chair, UNM School of Engineering Alumni Leadership Board