Alumni Volunteer Opportunities
You have eight ways to get involved as a School of Engineering Volunteer: Townhall or recruitment meetings; resume critique by engineering professionals; engineering expo; hire an intern; post for open positions of employment; attend recruitment events; share your alumni testimonial, and attend events. Find what you are interested in, press the volunteer button, and fill out the required information. You will receive a confirmation email. You will be contacted prior to the event.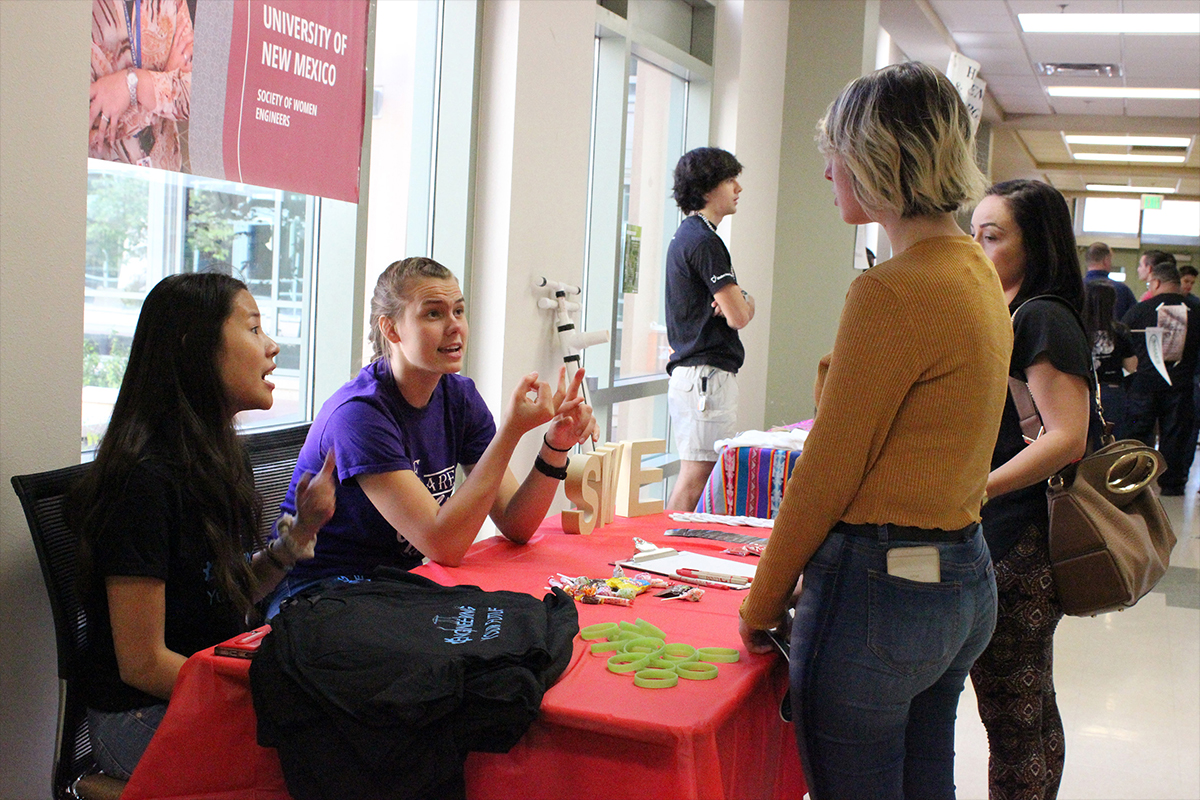 Society of Women Engineers at 2018 SOE open house
Supporting Student Events
TOWN HALL OR RECRUITMENT MEETINGS
Date: On-call basis
Join a select group of alumni volunteers speaking directly to prospective students and/or parents. Sharing your career or UNM experience may be just what they need to believe UNM Engineering is the right place for them. Meetings can take place electronically. These meetings occur on an on-call basis.
---
Student Mentoring
RÉSUMÉ CRITIQUE BY ENGINEERING PROFESSIONALS
Engineering Student Success Center
Date: November 8, 2021 sign up by October 31, 2021 
An annual event in which engineering graduates and company partners provide feedback to our engineering and computer science students on their résumés. Hosted once a year, the students bring their résumés and participate in one-on-one appointments with engineering professionals to have their résumé reviewed.
---
STEM MENTORING
Date: Ongoing
School of Engineering students are paired with STEM professionals to mentor them on self-defined goals. The objective is to gain an open and friendly relationship with a mentor to help with career navigation and knowledge of the working world. The semester-long program will require weekly one-hour meetings via Zoom or face-to-face.
---
ENGINEERING EXPO
Date: Each May
Engineering Expo is an annual event that showcases our outstanding senior student capstone projects to our corporate partners and other students and faculty. Meet some of our brightest students who are poised to make an impact in the world of engineering. Review information from previous Engineering Expos.
---
HIRE AN INTERN
Date: Ongoing
The UNM School of Engineering is dedicated to providing our students with hands-on, real-world experience. To do this, we work closely with corporate partners to find the ideal student for their company. This program has been so successful that many of our students have gone from internships to full-time work with these companies.
Engineering companies and agencies interested in hosting Engineering and/or Computer Science students as interns, or as full-time or part-time employees, please submit your contact information.
Submit your contact information
---
POST OPEN POSITIONS FOR EMPLOYMENT
Are you looking to hire? The School of Engineering would be proud to provide this information to our students or alumni.
Submit your information about open positions
---
Student Recruitment
RECRUITMENT EVENTS
Date: Ongoing
Love UNM Engineering? Show your love by attending in-state or out of state recruitment events with the School of Engineering recruiters. You will receive coaching and training prior to the event.
---
ALUMNI TESTIMONIALS
Date: Ongoing
Do you have an inspiring story demonstrating your success as a UNM Engineering alum? Your story may be the motivation a potential student and/or their parent(s) decide UNM is the best place for their education. You may also be called upon to speak to parents via a scheduled zoom meeting about your experience at UNM and your successful career.
---
Alumni and Donor Events
ATTEND AN EVENT
Date: Ongoing
The School of Engineering has many events during the year. Events like Isotopes and NM United games and News & Brews with the Dean are just a few of the fun ways to enjoy time together with other alumni and donors.
To make sure you are on the invite list, please sign up.
---
Contact us
Nicole Arsenault
Development Assistant
Centennial Engineering Center, Suite 3071
(505) 277-5521
arsenaultn@unm.edu
---